A strong partnership with NeilPryde
Jean Christophe Saliou, leader of the Satet group, already had a privileged relationship with NeilPryde. It has been the exclusive distributor in Europe and Africa of the brand's one-design windsurfboards since 2013. When, at the request of international sports authorities, NeilPryde studies the possibility of developing its RS:X Olympic model into a foil support, Breton society is obviously involved in the process. Thanks to its knowledge of the file and the mutual trust established with NeilPryde, the French company responded to Pryde Group's call for tenders for a foil windsurfing board.
Complete design
The Satet Group designs the prototype of the RS:X Convertible as part of the call for tenders. The studies and tests, conducted with NeilPryde riders, concern the complete set consisting of the float and its appendages. The product is finally chosen by NeilPryde, in order to be proposed as an Olympic support to the IOC.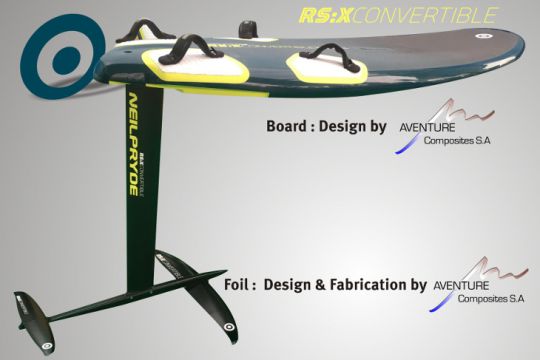 RS:X Convertible Design
Creation of Aventure Composites
Based on a solid contract with NeilPryde, Jean Christophe Saliou created Aventure Composites in 2016. She will be in charge of producing the foils for the RS:X Convertible competition boards for the world market. The French know-how of composites must allow a quality in conformity with the international monotype.
The floats will be produced by world leader Cobra and the more accessible aluminium access foils will be manufactured in China.
Target 1000 foils in 2017
The contract with NeilPryde is demanding. The first delivery is scheduled for March 2017 and covers 200 foils. The goal for Aventure Composites is to deliver 1000 units in the first year. The volume should be maintained in the following years for the equipment of the world fleet.
Jean-Christophe Saliou indicates that the market amounts to several hundred thousand euros.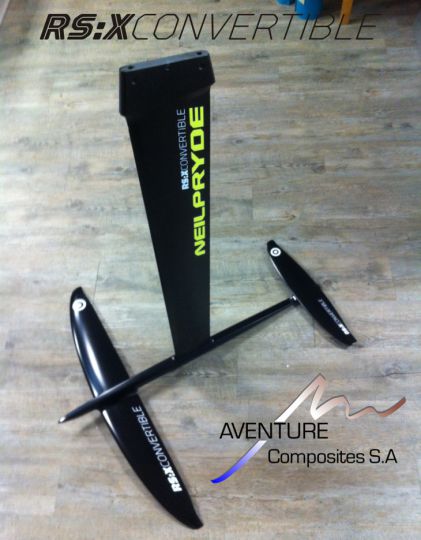 Investment and hiring
Insured by its first contract, Aventure Composites was able to make investments of several hundred thousand euros. The production tools are installed in a facility in Faou, Finistère. 9 people have been hired in production. Aventure Composites employs a total of 12 people.
Create a composite specialist
The Olympic Games are obviously the main objective of Aventure Composites. The arrival of foil windsurfing and kite-surfing in 2024 and the final choice of supports have yet to confirm the options of Aventure Composites. But the company does not want to limit itself to this. Sailing is obviously a core activity, but the company can open up to all markets. Mr. Saliou says,"If tomorrow we are asked for composite sidewalks, we will study the problem seriously."