On 6 November 2016, the 29 skippers taking part in the Vendée Globe will set out to attack Everest des Mers. With the opening of the village in Les Sables-d'Olonne on 14th October last (and even a little before), the solo round the world race is in every mouth and in every media outlet... Skippers or IMOCA yachts are under the microscope! But once at sea, it will be more difficult to get images of boats and solo sailors. For this reason, everyone has created a Vendée Globe image bank, which will enable us to illustrate our articles and the public to benefit from them!
These images must make it possible to have photographs of the boat during all the duration of the race (approximately 3 months) and in all the conditions. Because we will not have access to aerial photos of the boats, they will only be visible on the maps or through the images and videos taken by the skippers.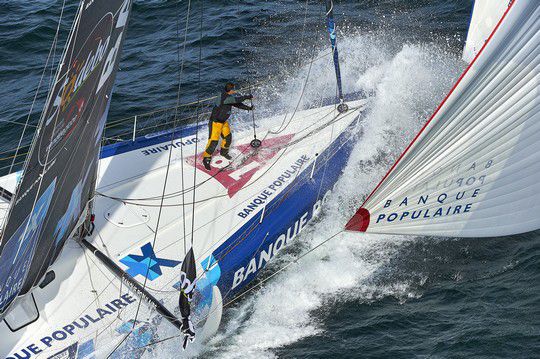 Yann Eliès, skipper of the monohull Quéguiner - Leucémie Espoir, explains how to create these image banks, supported by video!
The Vendée Globe regulations stipulate that skippers must create 3 image banks:
One in the light airs that is realized with a drone
One in the average time which is still done by helicopter, but which will eventually be done with a UAV
One in rough weather, made by helicopter
For images taken by helicopter, a cameraman and a photographer board. Unlike the UAV, the aircraft can reach up to 40 knots of wind force. To take pictures in"storm" conditions, you need a minimum of 30 knots of wind, 40 knots being ideal.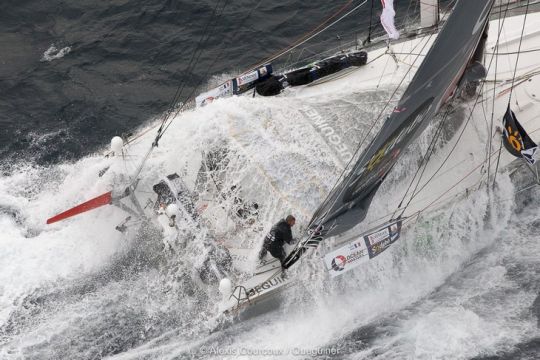 This image bank will allow you to have photos of the boat throughout the race and in all conditions.
In the second video, we can see photographer and cameraman preparing all their equipment to be able to realize the photo sessions of the IMOCA MACSF (Bertrand de Broc). The scene is filmed from the helicopter and one realizes the shooting conditions. Both mediamans are equipped with helmets that allow them to communicate with the boat. On board, we adapt the gaits to get the best result. When the skipper passes in front of the boat for the photo shoot, the team takes over in the cockpit to check the boat's progress.