Proven technology
Present in construction and civil engineering for many years, the 3D scanner is still little used in boating. It allows, thanks to a laser pointer, to acquire a cloud of points in three dimensions of very high density. Once the raw data has been processed, it is used to obtain 3D polylines, meshes or surfaces (Nurbs), classic formats for 3D design software.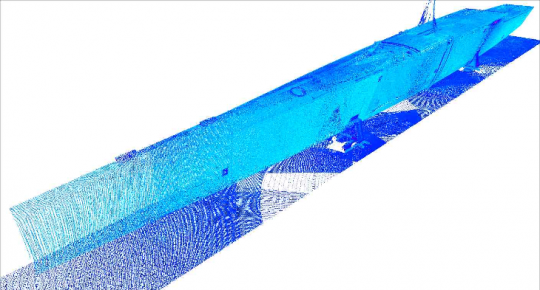 Point cloud hull model

Smooth hull model
Survey of what already exists
Measurements can be made both on the outside elements (hull, deck, appendages) and inside the boats. It is thus possible to remodel the hull of a boat whose plans have been lost. This makes it easier to study the various possible changes and their influence on its stability.
In the same way, a survey of the interior makes it possible to envisage all the possible evolutions of the arrangement, facilitating the work of the saddler or the joiner.
Production control
For high precision parts, NautiSCAN 3D offers a laser geometry check. The company can thus validate the conformity of a mould or technical appendices with the plans and improve the quality process.
At the service of boatyards and design offices
NautiSCAN 3D, founded in 2015 in La Rochelle by Henri Patou, offers its services to shipyards and design offices, to which it delivers a post-processed 3D file.
The equipment and a good knowledge of the sector should bring to the actors of the nautical industry a gain of precious time in their activities of refit and production, thanks to a service still rare.