Additional rudders
The Dockstar patent is based on the addition of two rudders in front of the propeller. When operated in reverse, they provide a steering plane downstream of the propeller, which benefits from the accelerated water flow and gains in efficiency compared with the conventional rudder, located upstream of the propeller, which is generally ineffective in reverse. This compensates for the propeller pitch effect.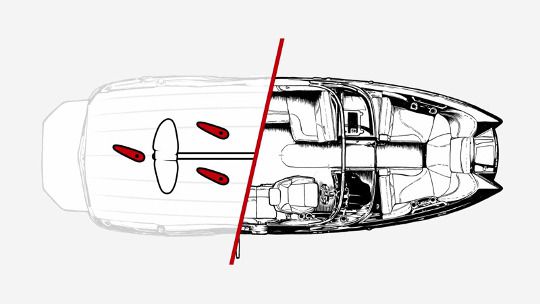 Dockstar Principle
The maneuverability of an outboard.
The Mastercraft brand claims, with video in support, to obtain a manoeuvring capacity equivalent to that of an outboard or a stern-drive. It thus intends to convince the owners neophytes or anxious of the maneuvers of port to pass to the inboard engine. It offers many advantages for the practice of towed sports, an essential niche for Mastercraft.
No values for additional drag and effects on forward propeller consumption and performance are reported.
Patent pending, pending commercialization
The details of the system are not yet disclosed by Mastercraft, pending validation of the patent application.
Dockstar will be offered as an option on 7 models in 2017 between 20 and 23 feet, including a brand new model. Implantation does not require any modification of the hull.