Launch of EHX hybrid waterjets
New Zealand waterjet manufacturer Hamilton has unveiled its new EHX range, for Electro-Hybrid Drive. For the equipment manufacturer, this is its first integrated system for the propulsion of boats with a hybrid diesel electric engine. The company supplies the shipyard with the electric motors, power electronics and control system. Key functions are integrated into Hamilton's existing AVX display. As with a traditional installation, the company's experts also assist in defining the rest of the propulsion chain for optimal integration of the turbine and propeller with the motor and reversing gearbox.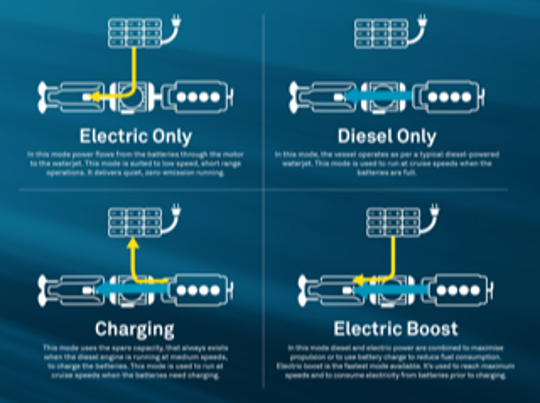 A modular system
The Hamilton EHX system operates in 4 modes :
Propulsion with diesel only
Drive with electric motor only
Recharging the batteries (no propulsion)
Electric boost by coupling the two motors to the waterjet turbine drive
HamiltonJet's CEO Ben Reed says the company has used its experience gained from a large number of hybrid projects around the world to come up with a modular solution. "When it comes to hybrid electric solutions, we know that one size does not fit all boats. That's why we have created a system that can be scaled to fit each individual ship project. Engines, battery capacity and components are all selected specifically according to the needs identified. This means we can ensure the best solution at the lowest price."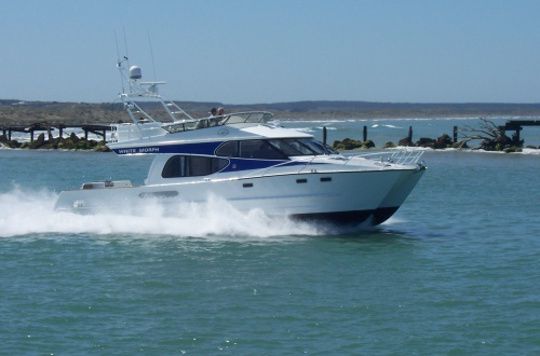 A hybrid demonstrator catamaran for Hamilton
To promote its EHX range, HamiltonJet has acquired a 15-metre aluminium catamaran with foils. The boat, built by the Q-West shipyard, is being refitted to install a HTX30 turbine coupled to the EHX hybrid system and 600 kg of Corvus Dolphin Lithium-Ion batteries. "This major investment underlines our strategic focus on electrification, digitalisation and autonomy," insists Ben Reed.
For the French distributor SEIMI, the initiative is also positive. "We have received the first information from Hamilton. This is in line with the development of the electrical business that we have started at SEIMI."