1st edition of the Venice E-Regata
Created in 2019, the Venice Boat Show is committed to electric propulsion for its 2nd edition in 2020. The organisers, in partnership with local yachting associations, are launching the 1st E-Regata. The event, scheduled from 3 to 6 June 2020, is aimed at all manufacturers of electric, battery-powered, fuel cell, hybrid, solar-powered or other energy sources boats. It combines regattas, parades in the Venice lagoon and conferences.
Various tests and good visibility for electric boats
The 4-day E-regata programme combines technical competitions and public awareness events. Participants will be able to benefit from exhibition space at the Venice Boat Show.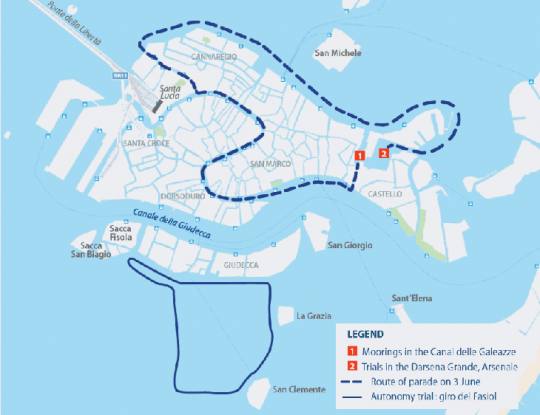 The first day will start with a parade of electric boats on the Grand Canal and in front of Saint Mark's Square. The 2nd day is dedicated to manoeuvring performance. The morning will consist of a slalom race. The "e-ballerina" afternoon is an imposed programme, similar to figure skating, where the boats, against a musical background of their choice, will have to perform a choreography including manoeuvres set by the jury. The 3rd day will check the autonomy and maximum speeds of the boats through sprints and an endurance race checking the boat's power consumption. On the last day, there will be an awards ceremony and round table discussions on the energy transition in boating.
Practical information
The registration fee of 300 euros will be used in part to build a wooden Venetian boat with an electric motor for service to people with reduced mobility. Applications should be sent to e-regata-venezia@inlandwaterwaysinternational.org before 15 February 2020.