Tyger of London: A capsize caused by a defect in the keel of the sailboat
The MAIB, Marine Accident Investigation Branch, the British authority in charge of studying accidents at sea, has published its report on the capsizing of the sailboat Tyger of London. The British boat, a Comet 45 from the Italian shipyard Comar, had lost its keel in December 2017 off Tenerife. The crew members were then recovered by a nearby vessel.
The results of the investigation revealed manufacturing defects in the lead keel and its connection system with the bottom of the hull, which did not comply with the plan.
Impossibility of controlling the hull-keel joint
The architecture of the keel attachment to the boat is unconventional on the Comet 45. Lead is attached to a sheet metal and stainless steel rod structure, soldered to a horizontal plate. This is then bolted to the hull. The visual inspection possible from inside the boat is therefore limited to fixing the upper plate. It is impossible to check the condition of the ballast and plate connection afloat. The MAIB warns boaters whose yachts have this architecture and invites them to be checked out of the water by an expert after any incident due to grounding.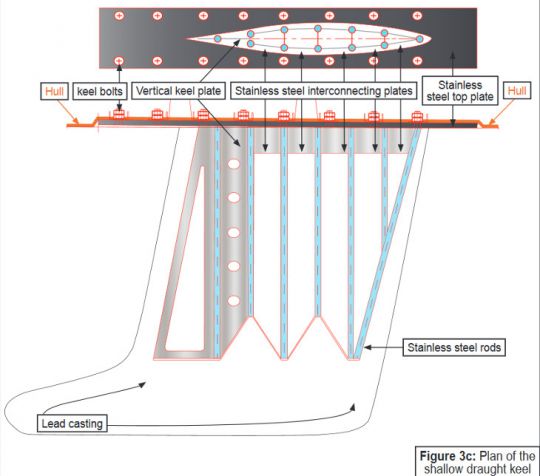 Call to amend ISO standards on sailboat keels
As early as its first safety bulletin following the incident in 2018, MAIB had asked British Marine, the British boating industry union, to bring an evolution of the standards to the ISO committee. He wanted to make it mandatory to provide boaters with recommendations and procedures for bowling inspection, which are currently only recommended by the standards. The ISO working group preferred to require "information on actions to be taken following the boat's contact with the ground."
In its new report, MAIB again emphasizes the need for rules to raise awareness among boaters of the need to monitor keel attachment.