Make the outboard motor invisible
Ghost or ghost in French, the name of the new project of BRP, the parent company of the marine engine manufacturer Evinrude, is unequivocal. Propulsion and outboard motor must become invisible to give the yachtsman more space and naval designers and architects more freedom. As part of BRP's objective of "transforming industry through innovation", the programme aims to have a major impact on the market through increased functionality and space in the design of the boat. BRP's lapidary description can be summed up in one sentence: "Provide more usable space on deck thanks to an integrated engine architecture that has never been seen before." The outboard motor should be completely invisible, leaving complete free access to the bathing platform, allowing more flexible layout schemes.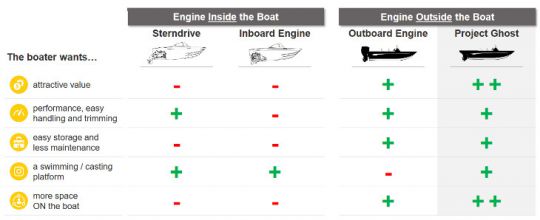 A development in the direction of shipyards
Compared to outboard engines traditionally installed in dealerships, Ghost project engines are designed directly for shipyards that have made the choice from the design stage. Evinrude will be able to rely on the brands of the BRP group to test its product. Images on Aluma Craft or Quintrex fishing boats and Manitou pontoon boats have already been presented. Development times have not been reported. As electric motors develop, with a volume lower than thermal equivalents, it is easy to imagine an evolution of technology towards new energy sources.