The skippers are taking NKE on board the L30 and Figaro 3
More accustomed to aftermarket, ocean racing prototypes and small shipyards, the electronics engineer NKE has signed two major contracts for the Figaro Bénéteau 3 and the L30. The two models of yachts, one sailing on the Figaro offshore racing circuit and the other on the new offshore sailing world championship, are intended for professional sailors, often familiar with NKE equipment. On the other hand, they are built by series production shipyards usually building other categories of electronic equipment. But the reputation of the equipment has played in favour of the manufacturer from Lorient. "For the L30, Rodion Luka, its promoter, who comes from the Olympics, is not a specialist in electronics. He consulted the ocean racing skippers and then followed their recommendations," explains Stéphane Siohan, head of sales at NKE. On the Figaro 3 side, NKE had a partnership with the Figaro Class on the previous one-design. For the new boat, Bénéteau had positioned itself with its usual supplier, but the skippers preferred to retain the grouping put together by TEEM, NKE and ICOM for the electrical and electronic supplies.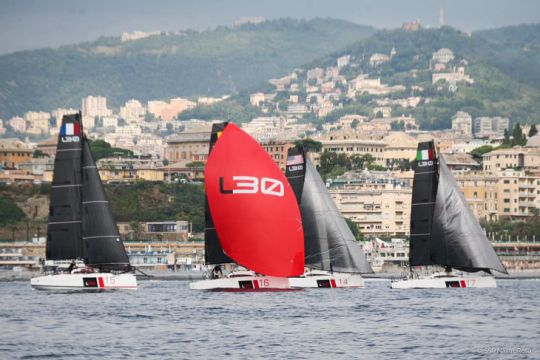 Large ship volumes
The challenge for NKE on the Figaro 3 and L30 projects is also to install and supply the equipment simultaneously for a large volume of boats. "It is planned to launch 30 boats for the offshore racing championship in Malta in 2020. The construction is being carried out in the Ukraine in a yard where the technicians do not speak English. We're not just sending crates," sums up Stéphane Siohan, "It's a simple configuration, but the latest generation," adds Paul Fraisse, director of NKE.
For the Figaro 3, the first challenge was to be ready for the start of the 2019 season. "There have been 60 boats in the water in a month and a half, all the same," stresses Paul Fraisse. "Everyone was on deck when there were small problems, such as reinforcing the display supports. The management in partnership with Bénéteau was very good."
NKE opens up to offshore racing and Anglo-Saxon yachting
Beyond the volumes, these projects are also an international showcase for the NKE brand. "There were 6 L30 one-designs in Genoa with NKE flags on them. We are going to reach out internationally, through the world championship, people from all over the world who don't know us. It's also a foot in the door to the Olympic Games project," says Paul Fraisse. The Figaro, offered with the TEEM / NKE pack as an option to comply with the gauge, is also an export vector in a class that is becoming international and beyond: "Today, for the Transquadra, customers are asking for the "Figaro pack"!"