"Choosing a sponsor no longer has much to do with sport."
Sailing is a mechanical sport and requires a large budget. The sponsor is therefore a key element for the skippers and their teams, but it remains difficult to obtain. During the Yacht Racing Forum, Nathalie Quéré, director of the Tem Akzo Nobel campaign on the 2017-2018 Volvo Ocean Race, shared her experience and her vision of the sponsors' expectations. In a first observation, it highlights the evolution of sponsorship practices and the need for objective criteria to convince decision-makers. "Twenty years ago, it was decided around a glass of wine and a handshake. It's over now. We receive sponsorship requests 2 to 3 times a week for any type of sport. To convince a board of directors, it takes more than images. We need numbers. It doesn't have much to do with sport anymore."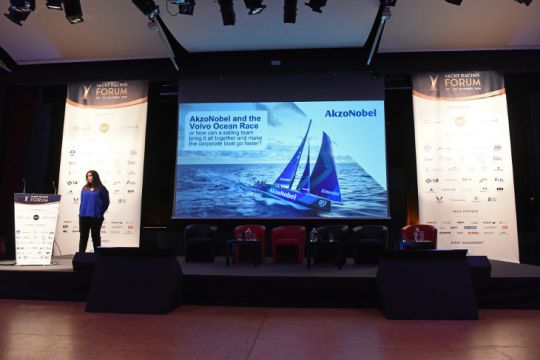 Akzo Nobel's experience on the Volvo Ocean Race
To illustrate her point, Nathalie Quéré referred to the process that led to the creation of the Akzo Nobel Team and her round-the-world sailing trip in the Volvo Ocean Race. When she joined the company in 2012, with experience in sailing sponsorship at BT, the manager explained the possibility for the marine paint specialist to get involved in competitive sailing. There is interest, but we ask her to be patient. In 2016, the opportunity for the Volvo Ocean Race presents itself. It took 6 months of negotiation with the board of directors to set up the project, justifying going beyond the name on the boat, through the supply of antifoulings for all competitors, the sustainable development partnership and the action programmes on the stages. "Without the commitment to the supply of paint and the partnership created especially for us by the Volvo Ocean Race, this would not have happened," explains Nathalie Quéré.
Finally, Team Akzo Nobel estimates that it has achieved its objectives with media coverage of ?74.1 million and a return on investment of more than 1.5, to which should be added contributions in terms of human resources.
Advice for skippers looking for sponsors
Asked by the audience, Nathalie Quéré gave several tips to skippers and professional sailing teams in their search for partners:
"Surround yourself and find the right supports. Not all sailors are made to defend the project before a board of directors."
"Do your homework and prepare your arguments"
"Explain what you bring me, not 20 pages of pdf about a dream that is yours and not the company's."
"Don't think that the CEO is the most important thing. Start with informal discussions with communication and marketing managers."
"Don't focus on boat classes or technology."