Success of the 1st Yacht Racing Forum in France
For its 11th edition, the Yacht Racing Forum, a symposium of competitive sailing professionals, made a stopover in Lorient on 22 and 23 October 2018. The two days of debates and conferences brought together more than 430 specialists working for this sport, from the skipper to the marketing manager, including the naval architect and the race organiser. This high attendance is a great success for the organizers, with a 60% increase in the number of participants compared to the Aarhus edition in Denmark in 2017.
A tool to promote French sailing to Anglo-Saxons
While the Yacht Racing Forum already enjoyed a good reputation among competitive sailing professionals in the Anglo-Saxon world, the event remained rarely visited by the French community. In charge of promoting Brittany Sailing Valley and regional know-how in the racing yacht industry within Bretagne Développement Innovation, Carole Bourlon was responsible for hosting the Forum. She is delighted that the two sailing cultures have come together. "My mission is to support our export members. That's why I suggested to the Yacht Racing Forum to come to Lorient. More than 400 participants, that was my goal. It's already a success before we start. We also have many people registered for the tour of the companies in the region."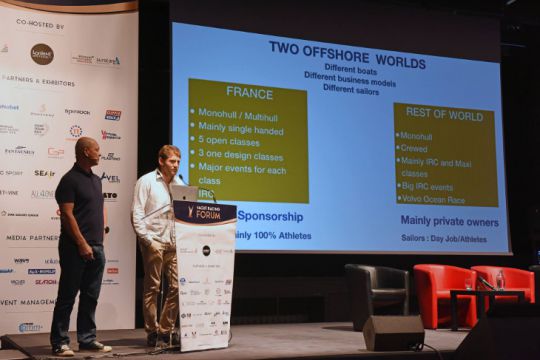 Relationship before technique
Many topics were discussed during the conferences held during the two days of the Yacht Racing Forum, ranging from the role of media crew members to the design of foils, the role of social networks and relations with sponsors. Some specialists may have been disappointed by the too rapid overview of the themes, but as a French participant present for the 3rd time explained:"The first year, I was a little disappointed by the overview of the technical aspects. Now I come here thinking I'm not going to learn anything technically, but I meet so many people. It's extremely rewarding."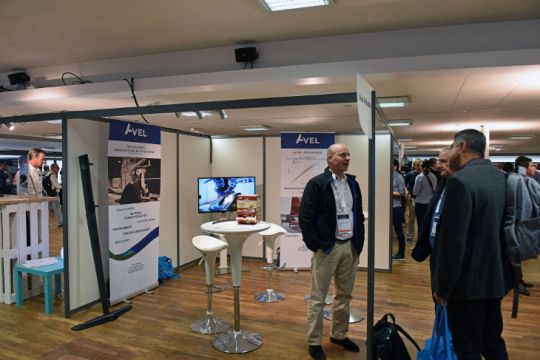 A business opportunity, even beyond competitive sailing
Will the meetings lead to orders? It is still early to say, but French exhibitors and participants are optimistic. "It allows us to show our know-how," explains Luc Talbourdet of Avel Robotics, which manufactures foils in a robotic way. "There are a number of projects under discussion," says Mathieu Taburet of paint and equipment manufacturer Nautix. Beyond French ocean racing, the entire French nautical industry can benefit from the event, as Benoit Lebizay of the luxury Gunboat catamarans, exhibiting the model of the Gunboat 68, testifies: "Ocean racing skippers are prescribers for the owners of our boats who often call on professionals. It is therefore strategic to be there."