Cristec is a French company specialized in the manufacture of battery chargers and in all current management (inverter, converter, manager...). This company supplies the most famous shipyards such as Bénéteau or Wauquiez.
With evolution, the battery charger, once an independent element in the circuit, must now be connected to provide information to the user and can be controlled remotely from a central panel on board. Cristec has relied on Bus Can technology (the same technology used in all cars). Indeed, in marine, it was common to talk about the NMEA 2000 bus, but this one is exclusively dedicated to data exchange for equipment such as navigation electronics. Today the Can Bus is proving to be a more flexible alternative solution, less costly and easier to deploy.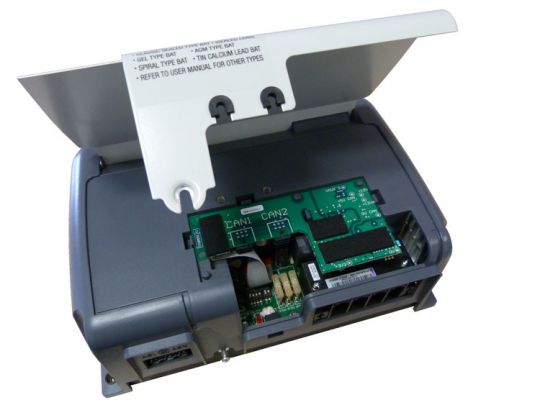 Thus the new loaders receive a Can Bus card which makes it compatible with systems like Bénéteau's Ship Control. Thus the charger can be controlled and operated remotely from the main screen on board.
The user can thus:
Access 220 V input voltage and frequency information
Read battery voltages (up to 3 independent parks)
Control charger current and charging phase (Boost, Absorption or Floating)
Stop or restart the charger
Activate a night function for chargers with a fan (to avoid noise in the cabins)
Limit the charger power in case of limited 220 V mains (generator set or end of pontoon)
The YPower range which receives a Can Bus card is available in 12 or 24 V and with powers from 16 to 60 A. Note that only large models require fans for cooling. Some installers do not hesitate to install 2 chargers of 30 A instead of only one model of 60 A in order to avoid the fan if the charger is close to a cabin.
Selling price: from 443 Euros TTC
| | | | |
| --- | --- | --- | --- |
| Reference | Voltage | Power | Ventilator |
| YPO12-16COMST | 12 V | 16 A | No |
| YPO12-25COMST | 12 V | 25 A | No |
| YPO12-40COMST | 12 V | 40 A | No |
| YPO12-60COMST | 12 V | 60 A | Yes |
| YPO24-12COMST | 24 V | 12 A | No |
| YPO24-20COMST | 24 V | 20 A | No |
| YPO24-30COMST | 24 V | 30 A | Yes |