Moving from boat refit to industrial methods
SYCI, for Sailboats & Yachts Customizable Interiors, is a young industrial start-up, recently installed in Saint-Brieuc. It was born from the will of several entrepreneurs to modernize the methods of interior refit in yachting. Philippe Coroller, president of SYCI, has extensive experience in building and interior architecture, after having worked on the design of embassies. When he wants to renovate his sailboat, a First 31, he notices high prices and an important delay. He therefore decided to think about an industrial method for refitting pleasure boats. This is how SYCI is born.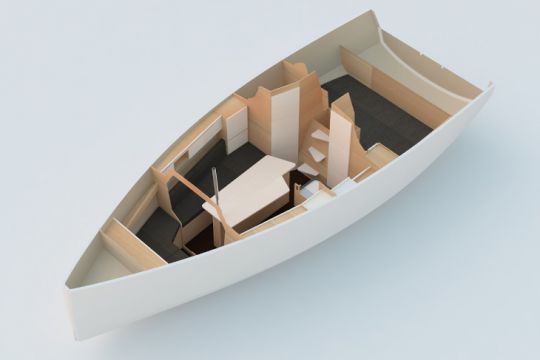 Boat interior modeling
Saves time and money
A procedure has been set up by SYCI for the development of new boat interiors. After the first commercial exchanges allowing to define the style and the plans of the future development of the boat, SYCI carries out an estimate. After acceptance, the old interior is completely dismantled and the boat is cleaned, then a 3D reading of the volumes is made using a scanner. This allows the exact definition of the layout panels, before validation by the customer on a virtual reality proof. The elements can then be digitally cut and sent for assembly on the boat. SYCI would like to work with building sites that would carry out the removal of old interiors and the assembly of new fittings, an offer that they could combine with their other services.
"Today, we are bringing a technological break with traditional refit methods. The cost is divided by 2 and the manufacturing time by 3, compared to a carpenter who has to install and remove several panels to adjust them," explains Johann Prod'homme, SYCI's technical director. "Thanks to our methods, we can also offer double-bent panels, to gain volume on board."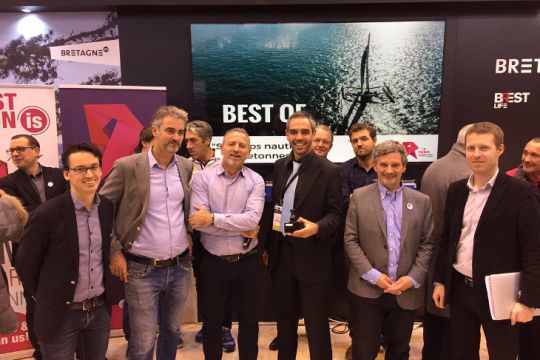 Winch Pitch 2016 Awards where SYCI was awarded
Solidarity operation with the West Indies
For the newly created company, the numerous boats damaged by cyclones in the islands of Saint-Martin and all the Lesser Antilles are an excellent way to show its know-how. It has therefore decided on a solidarity operation. SYCI members will go to Saint-Martin to get in touch with local nautical stakeholders and offer to send them kits at reduced prices. They can then be installed on board ships by Caribbean companies.