The fruit of expertise and conviction
The naval architecture firm VPLP has been working for many years on the use of rigid wings to propel sailboats. This has enabled us to acquire real expertise in terms of design, in addition to the conviction of the future of this type of rigging on other vessels," says Marc Van Peteghem.
While the aerodynamic efficiency of the wing has proved its worth in coastal racing, VPLP is convinced that the impossibility of reducing the surface has blocked the development of this propulsion mode. The firm therefore decided to confront the problem with the OceanWings project.
Can be lowered, sprayed and automated
To be able to democratize the rigid wing, VPLP fixed three constraints on the OceanWings. The system can be lowered and adjusted to adapt to weather constraints and automated to be applicable to large sizes. If reliable wing solutions are being developed for small offshore racing boats such as the mini Arkema VPLP's more robust design and structure choices were guided by the desire for automation.
The rig is also fully self-supporting and rotatable 360°, which facilitates installation on existing platforms.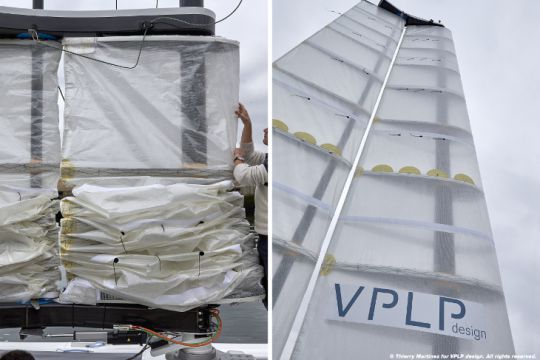 Lowering the wing
Wing control
Improving efficiency
Nicolas Sdez, engineer in charge of the project at VPLP, insists on the aerodynamic interest of the OceanWings:"The OceanWings will not be able to equip all types of ships or suit all regions, but we are convinced that it will find its place in fields as varied as pleasure boating, yachting, maritime transport (bulk carriers, chemical tankers, oil tankers...) and deep-sea fishing" says Marc Van Peteghem. When asked about the marketing method, the firm indicated that it was thinking about the sales model.
A second rigid version
VPLP will now work on a second prototype, integrating entirely rigid panels, in order to gain in performance compared to the fabric used on this first version.
Pre-projects of new boats and refits integrating the OceanWings are in progress.