T9 is a funny lubricant. It is a product developed by Boeing (yes, the American who builds the planes!) and which remains under license. It is a dry product containing paraffin.
The solvent used for spraying evaporates and the paraffin remains on the surface to be protected. It makes slipping easier and removes any squeaks or other friction noises.
On paraffin, dirt does not adhere. Surfaces remain clean. Dirt, dust, mud, nothing sticks once the T9 is sprayed. This is why for it to be effective, it is absolutely necessary to apply it on clean and dry surfaces.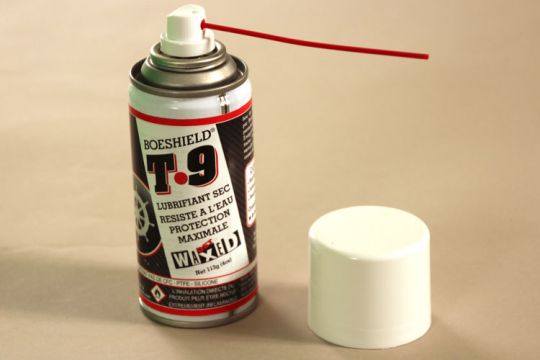 In addition, paraffin is non-conductive. This is why the T9 can be used to protect battery terminals or electronic circuits.
On a boat, the T9 can be used wherever there are moving mechanical parts (rigging screw, winch, furler, sail rail...) or on all electrical parts to protect them from corrosion.
The T9 is available on the Seaview Progress website at 17,15 € the 113g sprayer.