A meeting
If Bureau Vallée had already"stuck a sticker" on someone else's boat, it was in 2009 that the involvement of the chain of office equipment stores in sailing really began. It was born from the meeting of Michel Burton, father of skipper Louis Burton, and the founder of Bureau Vallée, Bruno Peyroles. He explains his son's sailing plans, good human contact does the rest. The company is accompanying the young skipper on a Class 40 programme. The good results and the good agreement between Louis Burton and his sponsor led them in 2011 to buy an IMOCA and participate in the 2012 Vendée Globe. It is now"almost a family story", according to Thierry Grimonprez, Director of Communications at Bureau Vallée.
Federating franchisees
The Bureau Vallée brand represents 300 stores worldwide, the vast majority of which operate under franchise. Sponsoring a boat in the Vendée Globe is a unifying element for the network. It is used to organize events for employees and customers.
In order to involve franchisees, the"Fil Communication", the representative body of Bureau Vallée responsible for marketing and communication actions, is consulted at all decision-making stages.
Skipper = Contractor
For Thierry Grimonprez, sailing is a sport that corresponds perfectly to Bureau Vallée, because the skipper is like franchisees, an entrepreneur who manages a small team, knows how to find capital, take risks and manage them.
The image of a clean sport is particularly positive compared to other disciplines.
More effective than traditional advertising
If Bureau Vallée does not want to reveal its budget for the Vendée Globe, Thierry Grimonprez confides a few figures. For an equivalent investment, Bureau Vallée sponsorship on the race around the world generates 3 to 4 times more media coverage than traditional television advertising, thanks to invitations in programmes, images of the boat...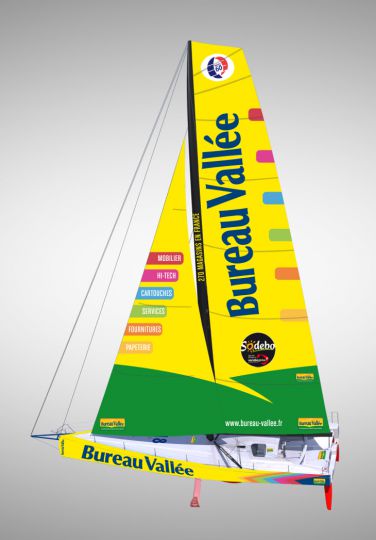 Everything is decided before the start
When asked about the media impact of Louis Burton's retirement in the 2012 Vendée Globe, Thierry Grimonprez tells us that 80% of the returns on investment for the sponsor take place before the start and in the first 15 days of the race. When an accident occurs, the favourable return of compassion compensates for the absence on arrival and the media result is identical. That leaves disappointment for a humanly involved sponsor.
Go back to win
Motivated to continue, Louis Burton asked Bureau Vallée to buy the IMOCA at foils Banque Populaire after the Vendée Globe 2016. Again consulted, the franchisees and the brand said yes, but the goal this time is to win, or at least to make a podium.
The survey institutes' figures indicate a 4 to 5 times higher return of notoriety for the winner compared to the 10th. The new project speaks volumes about the ambitions of Louis Burton and Bureau Vallée. See you in 2020!