A specialist in power transmission
The Italian group Transfluid has over 60 years of experience in power transmission for the automotive, industrial and naval sectors. It manufactures couplings, clutches, brakes and power take-offs for harsh environments. For several years, it has been developing coupling solutions for electric motors and electric propulsion for marine applications.
A fully integrated parallel hybrid system
Transfluid's parallel hybrid systems offer all the advantages of thermal and electric motors in a compact and integrated solution. Coupled on the engine flywheel, the device allows by a clutch to use four modes available :
pure electric: the electric motor drives the propeller
pure diesel: the internal combustion engine drives the propeller
booster : both motors operate simultaneously to increase power during manoeuvring or lift-off (use is not suitable at high stable speed)
generator: the internal combustion engine acts as a generator to recharge the battery.
In order to offer a complete and controlled offer, Transfluid has partnered with battery manufacturer Kaitek. The Battery Management System (BMS) provides battery charge management.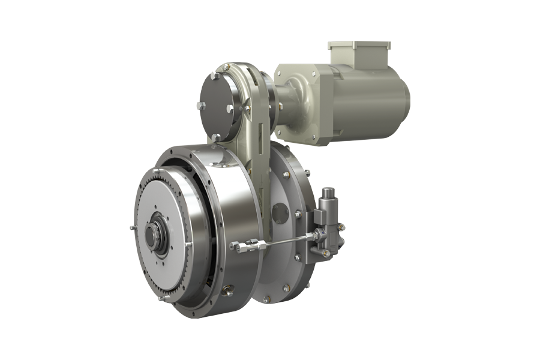 Transfluid HM560
A wide range
The Transfluid range is available in two types of products, HTM and HM, the first integrating the gear inverter, unlike the second which is based on the internal combustion engine.
Hybrid modules can power internal combustion engines up to 1100 kW. The electric motors are then determined according to the propeller on powers ranging from 8 to 150 kW.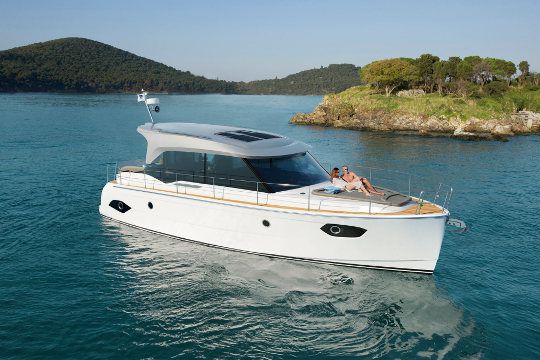 Bavaria E40
Series and one-off applications
Hybrid modules are already fitted to several pleasure craft. Present on the one-off catamarans SolarWave 62 and Sole senza frontiere, a partnership has been established with the Bavaria shipyard to equip the new hybrid model Bavaria E40. Tests are in progress for delivery at the end of the year.
The solution, compatible with all makes of engines, will also appeal for refit.