A compact wheel steering system with heating option!
Wheel steering has been Goiot Systems' image product for several years. The launch of the Triak Hexa aluminium range, with its angular design, shocked some classicist yachtsmen. However, with the possibilities of colours linked to anodising, they have seduced construction sites. But the French equipment manufacturer's know-how also lies in less visible details. On the occasion of METS Trade, Goiot invited visitors to put their hands on its wheel to discover the integrated heating option, a new feature of the show. "We slipped a resistance under the grip of the wheel steering," explains Jacques Leblais, director of Goiot. "It is an essay that seems to appeal, especially to Scandinavian shipyards. This is in response to the argument of boaters who criticize aluminum for the feeling of cold to the touch compared to leather. You can sail in winter without the gloves!"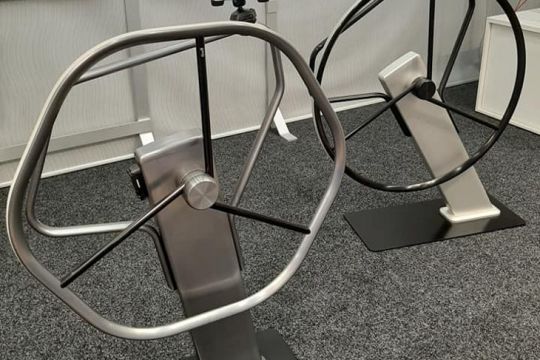 Beyond the heating option, the evolution of Goiot's steering systems range in 2019/2020 lies in the steering columns. The new version of the Satelly columns claims to be the most compact on the market. "We gained 50 mm in thickness, using an extruded and not mechanically welded profile. This makes it cheaper and more compact. A part of the bar hub has also been integrated into the column. All this provides valuable space in the cockpits of small sailboats," says Jacques Leblais.
Goiot delivers the aluminium foils of the Peacoq 14
The other attraction at the Goiot Systems booth was a red aluminium foil. Designed for the Peacoq 14 flying dinghy, the appendix allows the French manufacturer to highlight its expertise in aluminium. "There is a lot of work to be done on bending control while maintaining good geometry. This makes it possible to obtain a foil that is more economical and more suitable for mass production than composite," says the Goiot manager. Like what is done for candlesticks and balconies, anodising makes it possible to customise the colour of the foils.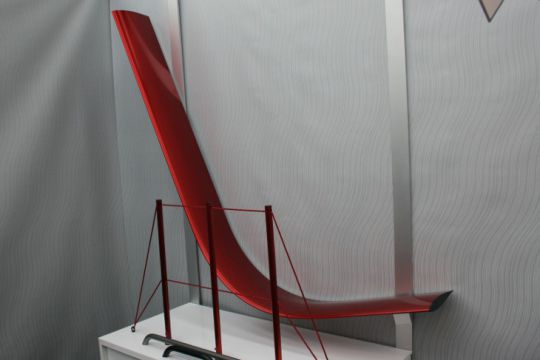 Stand out through innovation
Goiot Systems focuses on details to seduce construction sites. "By continuing to manufacture in France, we must innovate and be attentive to design to make a difference," concludes Jacques Leblais.