Improve propeller performance
The American company Sharrow Engineering was founded in 2012. Its founder Greg Sharrow was then working in video production. As a drones user, the noise of the propellers of the machines disrupted the quality of his work. He then wanted to focus on this key element in order to improve its performance. After more than 7 years of research and development, the study program led him to propulsion propellers for professional ships and pleasure craft.
A propeller design that limits blade tip vortices
Propeller designers and hydrodynamic engineers have long been familiar with the fluid mechanics principle that generates vortices at the end of rotating blades. This instability leads to vibrations and noise, which is the cause of his worries as a video producer. It also affects the performance of the propeller and can facilitate cavitation, damaging the propeller. Greg Sharrow therefore decided to look into the problem. His idea is simple. If the vortices form at the free end of the blade, simply remove it. He therefore imagines a continuous blade returning to the hub, a kind of double blade connected at their ends.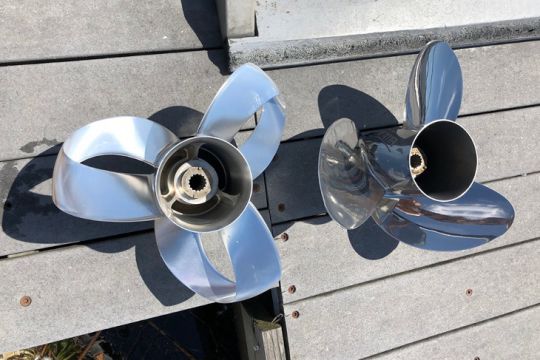 A Sharrow propeller next to a conventional propeller
Higher propeller efficiency and minimal vibration
After 7 years of testing in recirculation tanks, CFD calculations and tests on boats in real conditions, Sharrow claims high performance. According to the manufacturer, Sharrow propellers have an efficiency 9 to 15% higher than those of the Wageningen B series, the common reference for propellers. The optimal efficiency range is wider. At a given rotational speed, the propeller generates more thrust while absorbing less power than a conventional propeller, says the manufacturer. In addition to the related fuel consumption advantages, the reduction in vibration adds to the comfort of navigation.
As is customary in the sector, the characteristic Kt Kq curves of the propeller are not made public. The available comparisons come only from the manufacturer.
Towards a commercial phase
Sharrow Engineering has protected its invention with various patents in the United States, Europe and around the world. Its propellers are available for commercial vessels. They should be marketed quickly as pre-orders for yachting.