A new 150 HP outboard for Evinrude
On June 12, 2019, Evinrude, the specialist in 2-stroke outboard engines, unveiled a new engine block. It is an in-line 3-cylinder engine that incorporates E-TEC G2 technology from Evinrude's high-powered engines. It will be available in 3 power levels: 115 HP HO (High Output), 140 HP and 150 HP. Production has not yet started and the price is being defined. The marketing is announced for the end of 2019.
Options for large engines
With these new engines, Evinrude brings to its medium power range the options developed for the largest models. The new engine will have the option of electric shift and throttle and Dynamic Power Steering. It will also offer self-trim services.
Special work has been carried out to reduce vibrations with balanced gears and elastic studs at the lower junction between the motor and the chair. A valve system on the exhaust, derived from the Rotax engines, another brand of the BRP group, guarantees the performance of the 150 HP model.
To make life easier for the yachtsman, the 7.2-litre oil tank is sufficient for 50 to 60 hours of use. " This allows the owner to sail for a whole season without having to refill the oil. "says Maxime Jessionesse, Evinrude's marketing manager for Europe.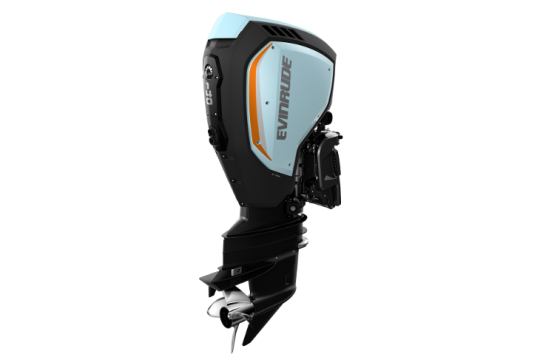 Technology engines for small boats
Beyond the options, Evinrude's aim is to offer its technological advances on 2-stroke engines to mid-range powers. " With the E-TEC G2 technology, which is the best on the market in terms of pollutant emissions, we can offer the same power as the competition with a 1.9 L engine instead of 2.8 L or 3 L. And the new Evinrude E-TEC G2 is 25 kg lighter ." explains Maxime Jessionesse.
When asked about the choice of medium power, while the other engine manufacturers are racing for ever more powerful outboards, he recalls the market figures. " We are selling more and more 300 HP, but we must not forget that more than 50% of the market is below 50 HP. The big engines are interesting in terms of communication and there is an expectation from the dealers, but that was not the priority for the moment. We wanted to bring technologies to low powers. "