Lorima joins the Wichard Group
The French group Wichard, which already owns the Sparcraft, Facnor and Profurl brands, signed the acquisition of the carbon mast manufacturer Lorima on 25 April 2018. The operation strengthens the position of the tricolour operator in the mast and rigging sector, which already employs more than 60 people in Sparcraft's workshops at the La Rochelle and Saint-Vaast La Hougue sites for the production of aluminium spars. Lorima, founded in 2001 and managed since 2009 by Vincent Marsaudon, employs around forty people on its site at the Lorient submarine base.
Vincent Marsaudon, President of Lorima
A strategic acquisition
Thanks to the acquisition of Lorima, the Wichard group quickly took its place in the rapidly growing carbon mast market, from which it was entirely absent. "For us, it is an important strategic positioning choice. This allows us to acquire very good technical know-how in the production of carbon masts, while increasing our market share. "explains Michel Audoin, Sparcraft sales manager. The Sparcraft and Lorima brands should continue within the Wichard group, like the Profurl and Facnor rewinders. Each subsidiary is managed independently.
Fruit of a partnership
For several months, Sparcraft and Lorima have been working together in several markets. The partnership between the two mast manufacturers continued in the Figaro 3 market, with the Lagoon catamarans built at CNB using Lorima by Sparcraft carbon booms. "The takeover is part of the continuation of the business we built together, as on the Figaro3 where the carbon profiles built by Lorima in Lorient are brought to Sparcraft in La Rochelle to be equipped. "says Michel Audoin. After 5 masts carried out for tests at sea, the Lorima-Sparcraft tandem will deliver 50 masts for November and the first one-design yachts will be assigned to their skippers.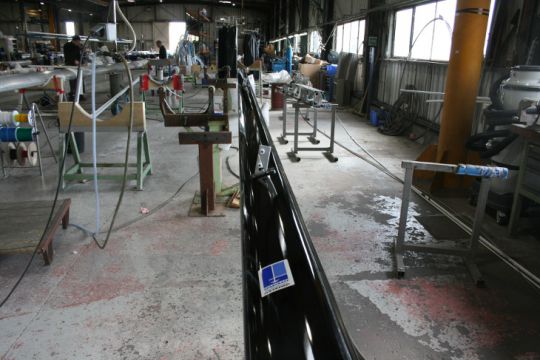 Figaro 3 mast
The alliance of the two brands should enable them to consolidate their positions on the OEM monohull and multihull market, in France and abroad.