Engines from 150 to 250 HP
Yanmar presented at the Cannes Yachting Festival the first engine of its new 4LV medium power range. Calibrated for power ratings of 150, 170 and 195 HP, it is already available in a shaft line version. A second engine with 230 or 250 HP will be presented at the Boot Düsseldorf. The 4LV range, developed to meet RCD2 2017 and EPA Tier 3 standards, replaces the BY and 4LH ranges.
More compact and lighter
Compared to the previous models, the 4LV motor is more compact, gaining 7 cm in width and 12 cm in length. It is also 20 kg lighter.
More comfort and less consumption
Yanmar's engineers are announcing significant technical gains, following the brand's "5 x Best" or 5 times better marketing campaign. It is based on the following 5 criteria: cleanliness, interconnectability, silence, power and consumption. The emission levels announced by Yanmar are lower than those required by EPA Tier 3 and EU RCD Tier 2 standards. Extensive work on combustion and the replacement of the timing belt with a chain also reduced noise and vibration. The displacement of 2.8L ensures an excellent weight/power ratio. Digital engine control ensures fuel efficiency and low fuel consumption.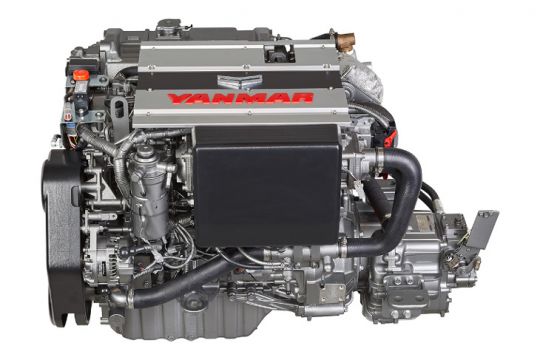 A key market
The medium-power engine niche is extremely competitive and important for Yanmar Marine, as evidenced by the sales level of the previous model. With its new inboard engine, Yanmar replaces a model launched in 2005 and sold more than 10,000 units. The 4LV 150 to 195 HP Yanmar mainly targets sailboats over 60 feet and powerboats between 30 and 40 feet, a significant share of the yachting market.