Can you present Dolphin Charger in a few figures?
Nicolas Fata : Cats Power Design produces power chargers and power supplies for industry. The company, which employs around fifteen people in Pringy, near Annecy in Haute-Savoie, has been manufacturing Dolphin Charger brand boating equipment since 1996. It has a turnover of approximately ?10 million, 15% of which is generated by marine activities.
The Dolphin Charger product distribution model has evolved. What's the new pattern?
NF : Since 1996, Cats Power Design has designed and produced all the chargers in the Dolphin Charger range at its Pringy site. The brand was owned by Reya, who distributed it in France and throughout the world, with Intermer taking care of the shipchandlers. Cats Power Design has acquired the Dolphin Charger brand. Since April 2, 2017, the products are directly marketed by the manufacturer for export and OEM markets. Reya and Intermer continue their activity for France.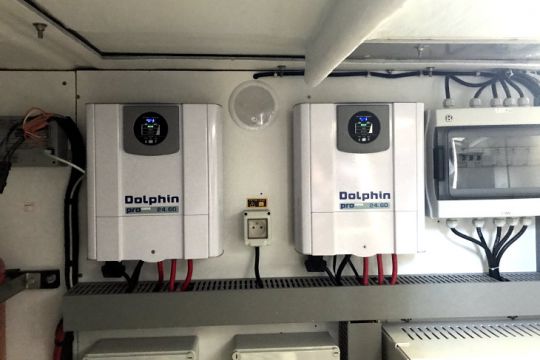 What were the reasons for this change?
NF : It was a question of following the natural evolution of the market. It's a tripartite decision made by Cats Power Design, Reya and myself. Reya was in a distribution model. Dolphin Charger wanted to get closer to the customer, by limiting intermediaries for export. From a commercial point of view, we are thus able to improve OEM service for construction sites. Thanks to the proximity between sales departments and R&D, we can offer tailor-made solutions perfectly adapted. This is an argument that makes the difference compared to the big players in the sector. For example, we are developing chargers connected with electronic boards for tailor-made electrical distribution solutions.
From an economic point of view, there is obviously a gain in limiting intermediaries to exports.
What are Dolphin Charger's objectives for the coming years?
NF : We have ambitious growth targets. Today, the marine activity represents 15% of Cats Power Design's turnover, 50% of which is exported. With the takeover of OEM activities and marketing outside France, we want to increase turnover and increase the proportion of international business to 70%. To this end, we will carry out two main actions: the development of the international distribution network, which began with two new partners in Italy and the United Kingdom, and targeted actions towards major European shipyards such as Bavaria or Hanse for the OEM activity.