Maître Coq began his partnership with skipper Jeremie Beyou only 10 months before the 2012 Vendée Globe "The brand was under construction 5 years ago and needed notoriety to be present in mass distribution and make our products known to consumers" explains Stéphane Sallé, General Manager of Maître Coq.
And it was a successful operation as Maître Coq recorded 10% more notoriety with the Vendée Globe "It was really huge! Normally we record 1% a year." continues Stéphane Sallé.
The same is true for turnover since before his partnership with Jeremie Beyou, the poultry master had a turnover of 150 m €illion. In November 2016, the latter recorded an increase of 20 m €illion in turnover.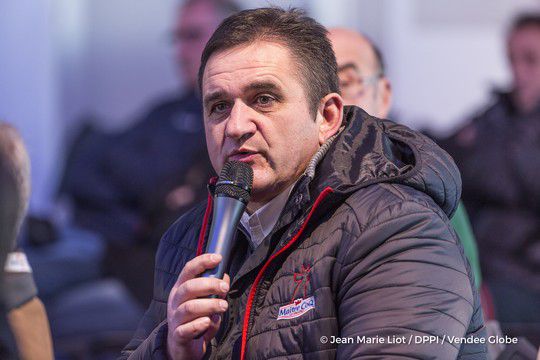 Stéphane Sallé, General Manager of Maître Coq
Sponsoring a skipper in IMOCA is not necessarily easy in terms of communication, as the Vendée Globe is held every 4 years. But the operation remains profitable as explained by the General Manager of Maître Coq "" In 2012, the brand was known by 57% of the population. Master Rooster also came up from the 5th to the 2 e the increase in poultry sales was 40%.
Unfortunately for Jeremie Beyou, the partnership with Maître Coq will end after the next Solitaire du Figaro. Before the start, Stéphane Sallé had explained how to work on a notoriety report and a sales report to decide whether or not to continue the adventure.
"360"
Finally, the expectations of both parties no longer match, the food specialist chicken to decide to end its sponsorship. A decision explained by Jeremie Beyou at the return press conference
"font-size: 11.6667px;"https://media.bateaux.com/bateaux/25049/imoca-vendee-globe-jeremie-beyou-3.jpg"We will make our decision after the return of the Vendée Globe, but the sporting and corporate project must match, and the budget for each Vendée Globe is increasingly important. By 2020, it will be even more so.">
The IMOCA Maître Coq has already been sold for less than 2 million euros, the price at which it was bought 3 years ago.