The first RIM6 thrusters awaiting final testing
Rémi Champeaux is working with his company Hy-Génération on the development of a new type of electric propeller for pleasure boats and workboats. It is based on a patented self-adjusting pitch blade technology and permanent magnet motor s goal of optimizing electricity consumption, as he explained to BoatIndustry in 2018. After 2 years of development, Hy-Generation was to deliver its first RIM6 propellers, sold in pre-series, in April 2020. "We are a little blocked by the confinement to carry out the last sea trials but the 3 pre-series propellers sold will be tested as soon as possible for a delivery to follow" specifies Rémi Champeaux.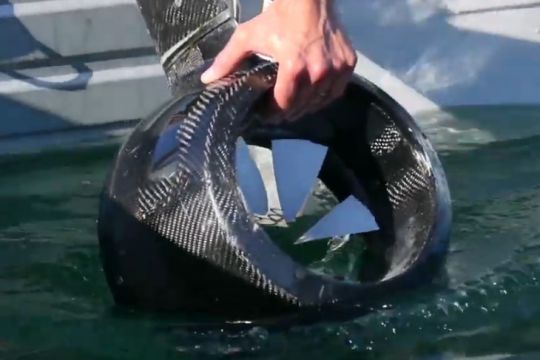 Pre-series model of the RIM6 thruster from Hy-Generation
Enthusiastic boaters
With its technology particularly adapted to slow, high displacement boats, Hy-Generation thought it would get off to a faster start in professional boats, but its innovation first attracted yachtsmen. "The customers of the pre-series are in fact private owners of pleasure boats with a large displacement or with manoeuvrability problems. We are thus doing a refit on a large trimaran that has difficulty leaving its pontoon with a narrow place, as well as on long keel yachts that are difficult to manoeuvre at low speed. This type of clientele forced us to develop a finished product with all the steering peripherals, battery management, etc... which was not necessarily the initial project where we thought we were working with professionals. It took us more time," explains Rémi Champeaux.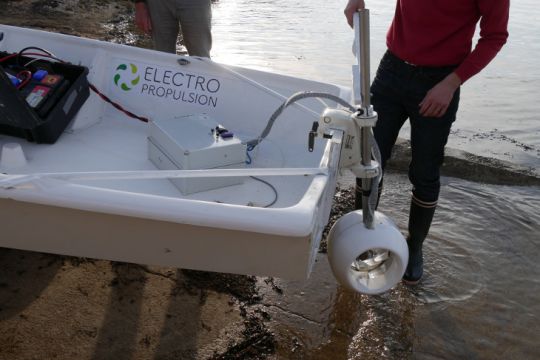 1st tests of the thruster
Preparing for the industrialization of electric thrusters
While the 2 years of testing and pre-series have allowed the technical problems to be resolved, Hy-Generation wishes to prepare the next stage of its development. Manufacturing and assembly are now entirely carried out in-house at Vannes. Only the aspect related to power electronics calls upon external resources. "The next step after the delivery of the pre-series is to carry out a new fund raising. It's a question of finding an industrial partner for the launch of the series," sums up Rémi Champeaux.
While the health crisis is hurting small start-ups like Hy-Generation, which are not always eligible for state support, let us hope that this innovation finds the necessary support.