During the last Paris Boat Show (December 2020), we met Harold Guillemin, CEO and founder of the start-up FinX, promoter of a propeller inspired by the movement of fish fins and applied on CorWave cardiac pumps.
With a maximum power of 2 kW (less than 3HP), the FinX D200 electric thruster offers a thrust equivalent to a 5HP combustion engine. Powerful, economical, quiet, safe and patented, FinX boasts a bio-inspired breakthrough technology. FinX holds an exclusive license on a portfolio of 14 international patents.
Beginning of the adventure and fundraising welcome
Before creating FinX, Harold Guillemin, an ESME Sudria engineer, also a graduate of CentraleSupélec, worked in the family business with his father, Erik Guillemin, himself founder of AMS R&D, a company in charge of developing and exploiting the potential of the Wavera corrugated membrane fluid propulsion technology, for which AMS R&D holds the entire patent portfolio and technological know-how.
In May 2019, the company FinX is created. In June, a first demonstrator is manufactured to be presented at the Paris Boat Show. For a first participation in this national high-messe of the nautical industry, the disappointment is due to the low attendance last December (transport strike), but the optimism of the startup does not budge.
Since then, thanks to a fund-raising of 450 keuros, FinX has been able to finance the construction of a robust, high-performance industrial propellant undergoing testing and optimisation in their Parisian laboratory with the support of CentraleSupélec and the École nationale supérieure de techniques avancées (ENSTA), renowned schools based on the Saclay Plateau, a cluster dedicated to the renewal of French and European industry.
A young dynamic supported by big names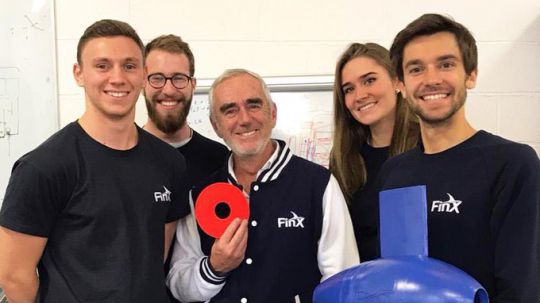 FinX is first and foremost a young team of six people with a full and well-made head. This "FinX" from renowned schools is actively supported by an advisory board (Conseil consultatif en bon français) of 6 people including the famous navigator Loïck Peyron, Hervé Gastinel, former CEO of the Bénéteau Group and Jérémie Lagarrigue, CEO of Energy Observer
"540" insists Harold Guillemin. "303"https://media.boatindustry.fr/boatindustry/33520/levee-de-fonds-finx-motor-2.jpg"Dream Team"360">
The Future
Integrated into a low-voltage electrical power system, since it is powered by 24 or 48 volts, this biomimetic technology could become a serious alternative to the propeller.
The next step is now to produce a small series of thrusters for a full-scale test and validate the performance and be able to offer these samples to partners.