Naviwatt, the French specialist in electric propulsion boats was present at the Düsseldorf Boat Show 2020. BoatIndusty takes advantage of this event to take stock of the development of this propulsion mode and its applications.
Naviwatt, 12 years of experience
From design to construction of electric boats, Naviwatt offers a range of semi-rigid, monohulls and catamarans mainly for professional use.
Created in 2008 and based in Arzon in the Gulf of Morbihan (56), the team of 8 people, including 3 naval architect engineers, works on all aspects of electric propulsion. In its 12 years of existence Naviwatt has produced about 40 electrically propelled boats.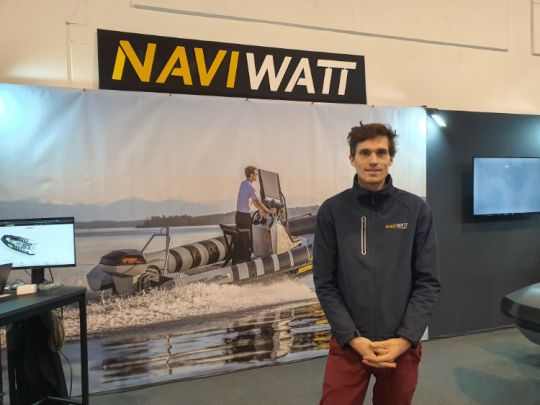 Adapt the boat to electric propulsion.
Laurent Bérenger, in charge of Naviwatt's business development, gets to the heart of the matter: "Naviwatt Laurent Bérenger"https://media.boatindustry.com/boatindustry/32978/propulsion-electrique-naviwatt-chargeur-electrique-2.jpg"540"360"405"https://media.boatindustry.com/boatindustry/32978/propulsion-electrique-naviwatt-chargeur-electrique-3.jpg"We quickly realised that fitting an existing hull with electric propulsion was not the right approach. An electric propulsion system should not be installed in a boat that is not intended for electric propulsion. All experiments, especially on semi-rigids, have resulted in poor performance. »
electric motor can operate at very low speed with a high torque available immediately ">
For Laurent Bérenger, electric propulsion can be broken down into 2 main subjects:
The design of the electric propulsion integrating motors, batteries, chargers and all the related environment
The navigation program that will determine the boat design.
Thus for each project, the team of naval architect engineers develops a concept in all-electric propulsion specifically for each use. For 12 years Naviwatt has made this a speciality.
At the very beginning of the shipyard's activity, Naviwatt manufactured small pleasure boats for rental propelled by a 4 kW engine, i.e. less than 6 hp, then passenger transport boats of 15 m in size propelled by 2 engines of 20 kW (less than 30 hp) each, for a speed of 12 to 15 km/h (8 knots), a power low enough to offer an autonomy of one day of operation.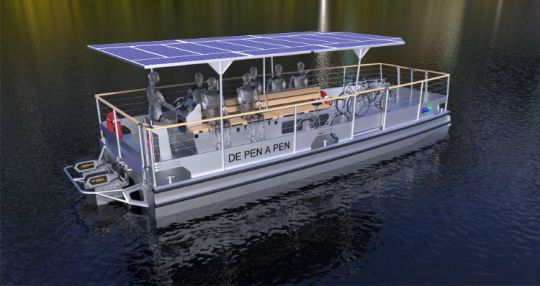 Naviwatt assumes that power generation remains onshore, even though some vessels are almost autonomous (but this is a small minority). Charging time and storage of electricity remain the necessary points of improvement for the development of electric propulsion.