Fora Marine: Bordeaux court decision postponed
The Administrative Court of Bordeaux met on Wednesday, January 22, 2020 to rule on the fora Marine's receivership file . The judge commissioner in charge of the procedure has decided to postpone his decision concerning the future of the Rochelais manufacturer of RM sailing boats. The magistrate in charge having changed during the proceedings, the new judge asked to meet the 2 candidates in the running for the takeover of Fora Marine. He is expected to deliver his judgment at the next hearing scheduled for February 5, 2020.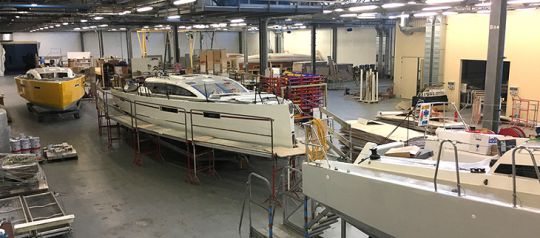 2 official candidates for the RM Yachts trade-in
Officially filed in the registry, the names of the candidates are now public. The 2 offers are based on quite different structures:
The Grand Large Yachting group, already owner of the monohull yacht brands Allures and Garcia and the catamarans Outremer and Gunboat
Maxime Vedrenne, commercial director of RM sailing boats for 7 years, associated with M. Olevier, industrialist, president of the company V-Motech, supplier of engineering and equipment for the automotive industry
2 different philosophies for RM
Pending the court's decision, the candidates did not wish to speak. However, the philosophy of the applications seems to be different:
The one carried by Maxime Vedrenne, an employee of Fora Marine, supported by an industrialist, seems to be in line with RM's recent history. Whether it was the Martin Lepoutre era or the more recent era of the Aime Mer holding company, the shipyard already relied on capital provided by industrialists. The presence of current executives would add to the sense of continuity.
The Grand Large Yachting Group is a accustomed to external growth operations since its creation around the Allures aluminium yachts in 2003. The two historical partners Xavier Desmarest and Stephan Constance, are supported by investment funds. After the rebirth of Gunboat, the RM market would be part of this dynamic, benefiting from industrial synergies and the group's reputation, particularly in long-distance sailing, the historic image of the shipyard in La Rochelle. The multi-material construction practised by RM with its plywood hulls and composite decks is also a skill mastered by Allures, which combines aluminium and composite.