Judicial redress for Fora Marine
The Fora Marine shipyard has been facing difficulties since the sale of the company in 2017 by Martin Lepoutre to the partners of Aime Mer, including former MEDEF chairman Pierre Gattaz. After Stéphane Sénacq's 2-year presidency between March 2017 and January 2019, Olivier Gainon, Pierre Gattaz's former chief of staff, had taken over all operational responsibilities. He still had high ambitions for BoatIndustry in March 2019. But the company remained in a delicate situation, which led Aime Mer, Fora Marine's parent company, to request safeguard proceedings before the Bordeaux court on 22 September 2019. But the last 2 months did not allow a quick solution to be found and Fora Marine ended up applying for receivership. According to rumours from the Nautic de Paris, a buyer immediately took up a position. In spite of our requests, we were unable to obtain confirmation from the shipyard management.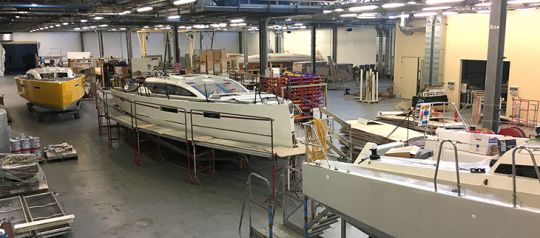 RM yachts remain a brand with a strong image
The situation might seem paradoxical. Indeed, the RM brand still enjoys a strong image with the yachtsman, driven by a very present marketing. The election of the RM 11.80 as sailboat of the year by our colleagues at Voile Magazine bears witness to this. Unfortunately, this appeal could not hide the industrial difficulties, leading to a significant drop in results. The yard suffered a loss of more than 1.4 million euros in 2017, despite a net increase in turnover. The 2018 balance sheet is not available. The difficulty of industrializing the production of RM yachts in the face of growing demand, while retaining the epoxy plywood technique for which the brand is renowned, could partly explain the situation. Attempts to add sandwich topsides also prove to be a surprising technical choice.