A growing dry port
Port Navy Service was founded in 1989 in Port Saint-Louis-du-Rhône. Located on an industrial wasteland formerly occupied by an important African timber sawmill, the company started its dry port activity there. The 13 hectares of land allow the storage and wintering of boats from 10 to 25 metres. A fairing area that meets current standards and the 7 nautical companies installed in the 12,000 m² of buildings offer maintenance opportunities for boaters or for the 35 professionals, motorists, riggers or laminators. But the company ended up being a victim of its success. "From 70 boats in 1993, we have grown to 920 today. Our establishment had become complete" says Philippe Froment, President of Port Navy Service.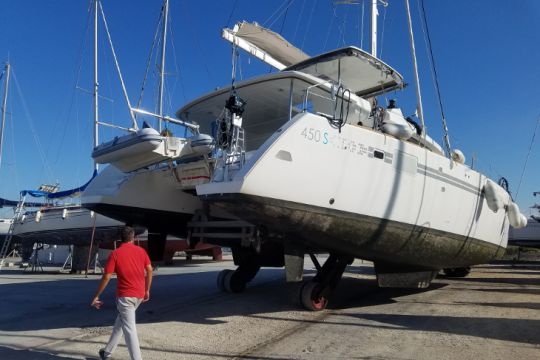 Catamaran in fairing at Port Navy Service
A new median for more boats
Port Navy Service found the solution by acquiring the adjoining land. The transaction significantly increases the capacity of the dry port. "In January 2019, we were able to acquire this 8-hectare site and 4,000 m² of buildings. This is the result of about ten years of discussions, which will allow us to welcome 600 additional boats," explains Philippe Froment. The first units are taking place on the new field at the end of the season.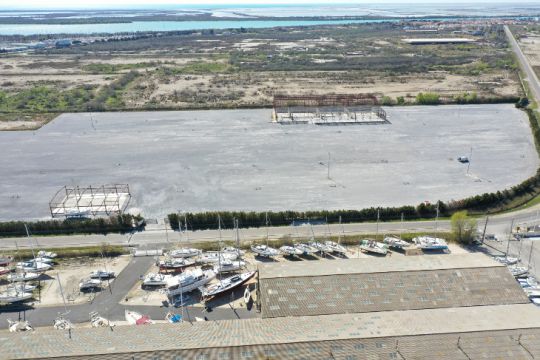 Navy Service Port Extension
Investment in water outlet infrastructure
The company is not satisfied with land extensions. Port Navy Service has chosen to invest in its water outlet and handling facilities. "We have obtained the authorizations from the town hall and the DDTM to widen the dock. We will also acquire a 120 T Boatlift launching gantry, more powerful than the current 50 T gantry. The work should take place in January / February 2020," says the manager. These new handling equipment will complement the Parklev trailers that can carry catamarans up to 25 T, one of Port Navy Service's specialities. "We now have 80 catamarans parked on the site," says Philippe Froment. This should not decrease with the extension of the site.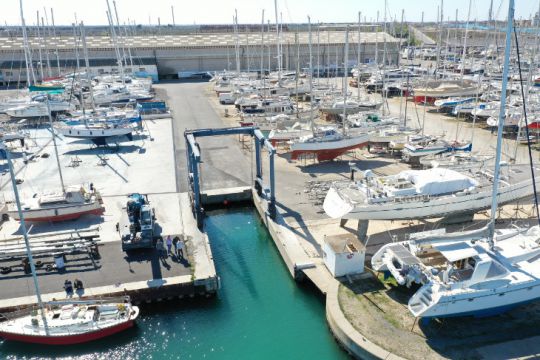 Current dock of Port Navy Service