The Ocqueteau shipyard in receivership
The yacht builder Ocqueteau was placed in receivership on 18 September 2019 by the Tribunal de La Rochelle. The company founded by Guy Ocqueteau, located at Château d'Oléron since 1948, has already changed hands and filed for bankruptcy several times between 1980 and 1995. Since then, the project, relaunched by Jean-Pierre Mellier in 1995, had been smoothly transferred to its current manager Christian Monier in 2013. With 6000 m² of workshops and 15000 m² of land, it currently employs 39 people.
A reasoned act to protect employees and the boat brand
Christian Monier, the manager of Ocqueteau, now considers the choice of legal redress as the best solution to ensure the future of the Ocqueteau boating company. " It is a sensible act to do things cold and preserve the brand, the site and the 39 employees. We have already seen in boating that just because you file for bankruptcy does not mean you disappear. There are already several candidates who have expressed interest. "
A lack of capital in a disrupted economic context
Since its takeover in 2013, the Ocqueteau shipyard had experienced a strong growth dynamic. Turnover had risen from ?1.7 million to ?4.15 million in 2018. However, the recovery of the yachting industry took longer than Christian Monier had hoped and the yard has accumulated losses that have weakened the financial balance of the yard. " The lack of liquidity eventually disrupted production, as we did not have enough stock, disrupting boat building sometimes over a few days. The increase in volume with the increase in orders was not enough to compensate for lost productivity." summarizes the manager.
In 2019, the French and international context changed the situation. Brexit and Spanish political instability weaken Ocqueteau's 2 main export markets, while the yellow vest crisis affects French retailers and pension taxation worries the over-60s, France's main customers. Orders fell by 30% over the year, after 3 years to +25%. "In June, they fell by 70% compared to the same month in 2018," says Christian Monier.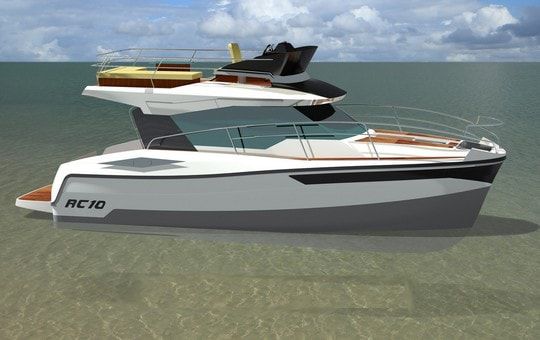 Boating requires investment
To adapt to the yachting market, Ocqueteau needs to be able to invest, says its manager. " The 5 to 10m segment, which targets the upper middle classes, is suffering, while the biggest is selling better. We never had the kidneys strong enough to start manufacturing our new RC10, when we should have. "The objective of the procedure is therefore to find a shareholder capable of carrying out this type of investment.