Karver returns to the port of Lorient
The deck hardware manufacturer Karver makes its return to Brittany, on the port of Lorient La Base. The entire sales department of the Normandy-based company, whose head office is in Honfleur, is going to set up in the Breton port. The 140 m² premises, in the Le Celtic building, will house offices, a showroom and a space for customer training. " The project was led by Aloïs Kerduel, sales representative for France. The whole sales team will join us. We are recruiting an additional export salesman and we are thinking about hiring an engineer for technical support. The office will be fully operational around September 15th. "explains Tanguy de Larminat, Karver's sales director.
Being at the heart of the ocean racing world
Karver is very active in the fitting out of ocean racing yachts, which has made his reputation. They account for 30 to 40% of its turnover worldwide and have a role of image. Getting closer to the racing teams therefore seemed logical. " We're in the middle of the action. Today, 70% of our turnover in France is made within a 150 km radius around Lorient and probably half of it in Lorient. It seemed logical. The head office, R&D and all the rest of the activity remain in Honfleur. The Normandy Region is also following us in this establishment in Lorient. "says Tanguy de Larminat.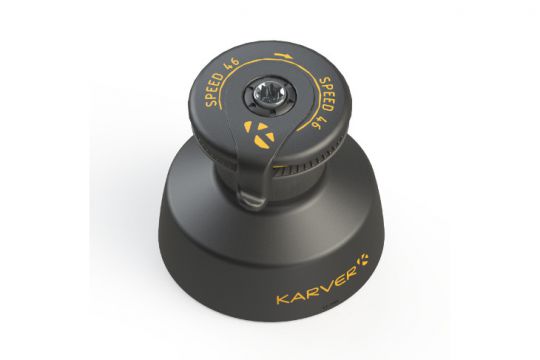 A better showcase for technical equipment
The top-of-the-range fittings manufactured by Karver are generally very technical and need to be tried out to understand them properly, like the pontos winches now taken over by Karver . The new showroom will have this function explains the sales manager. " We've been wanting to come back to Lorient for a long time, ever since the time of the Greek Marine buyout when we had premises. Karver winches are part of the triggers. You can write that they are 6 times faster, but in the end, people have to try to realize it. We sell technical products that need to be demystified. Hooks, for example, are often associated with Hobie Cat hooks that didn't always work very well. In Lorient, the showroom will be more relevant than in Honfleur. "If Karver only works in BtoB, the showroom, open to the public, will allow us to refer to distributors.