François Lamiot takes over AP Sellerie
François Lamiot, co-founder of All Purpose, is leaving the Breton sailmaking company. After creating the brand with Brice Berthier in 1996, he has just sold his shares to All Purpose and taken over the sailmaker's shares in AP Sellerie, a subsidiary he had managed since its creation and to which he devoted his time. "It is a great pride to have contributed from the beginning to the development of the sailmaking with the support of Géry Trentesaux and to have been the driving force behind the creation of AP Sellerie with Adrien Bourdin and CLM (Editor's note: a company that develops fabrics for the sailmaking industry, of which the GIE retains 28%) with Pascal Rossignol," says François Lamiot.
"This departure is the logical continuation of François' evolution (Editor's note: Lamiot) and the officialization of the existing operation," explains Frédéric Moreau, partner at All Purpose.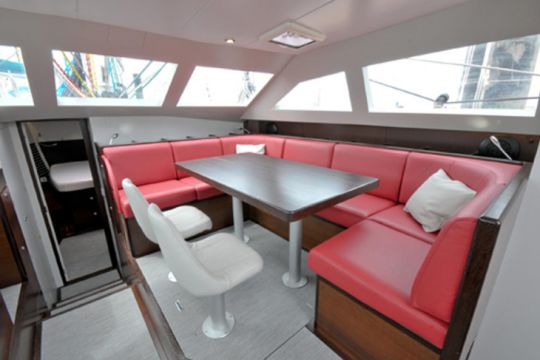 From water sports to cars and aeronautics
AP Sellerie moved to Auray in 2018 and employs 9 people. Co-managed by François Lamiot and Adrien Bourdin, the company produced all the "off-sail" saddlery parts and began to open up to new markets. "All Purpose sails made the saddlery related to the sails: mainsail covers, genoa protections... and AP Saddlery plus what was attached to the boat like the hoods or cushions. Today, they are trying to develop the automotive and aviation industries," says Frédéric Moreau.
All Purpose continues to grow
For its part, GIE All Purpose is continuing its development in its core business of boating. Today, the economic interest grouping brings together 7 sailmakers, for 12 floors and 39 employees. It is present in Carnac, Saint-Mandrier, Le Havre, Ouistreham, Saint-Malo, Concarneau, Roscoff and Brest. Its turnover in 2018 amounted to ?1.6 million (excluding AP Sellerie). If extension is not a priority, it remains in the viewfinder. "We are listening to sailmakers who would like to join the All Purpose EIG, particularly in the South Atlantic and the Mediterranean, without this being the priority. We take the time to do things right, one after the other, like preparing this separation from AP Saddlery."