Operational launch of the recreational boat dismantling sector
In March 2019, APER, Association pour la Plaisance Eco-Responsable (Association for Eco-Responsible Yachting), obtained State approval to set up the EPR sector in charge of the dismantling of end-of-life pleasure boats. Guillaume Arnauld des Lions, in charge of the file at the FIN, fixed in these columns ambitions in January 2019 and detailed the process for selecting operators who would deconstruct the vessels on behalf of the REPA. " The specifications are 50 pages long where technical aspects predominate over the price note. These are departmental lots. The objective is for the sector to be operational in April 2019." With a little delay, the system is now launched and the APER announced on 20 June that 18 centres were approved in France.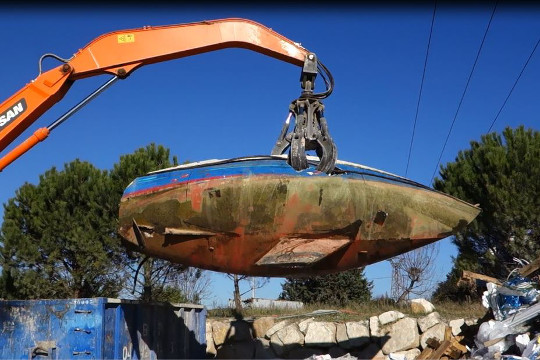 Developing the territorial network
The first centres are spread throughout France :
8 in Brittany
1 in Pays de la Loire
2 in Normandy
2 in PACA
2 in Occitania
2 in New Aquitaine
1 in Burgundy-Franche-ComtÚ
The association's objective is to reach 31 operational sites by the end of the year and around 40 at cruising speed. Each yachtsman should be less than 150 km from a dismantling centre.
Keeping targets for recycled boats
Jean-Paul Chapeleau, president of the APER, recalls the objectives of the association. "This operational start-up is very important. It will enable us to reach the objective set by the State for 2019, that of deconstructing 1,800 boats. This is the first step towards deconstructing 20,000 to 25,000 boats over 5 years (2019-2023) .
The issue of the number of boats treated is important for the future of the sector. In fact, it conditions its public funding, as the government pointed out in its response to a written question from Didier Le Gac, MP. The latter was concerned that the 2020 budget only plans to pay only 2% of the annual francization fee to the APER for its financing, as opposed to the 3% initially planned. The executive is making its response conditional on the number of end-of-life pleasure boats being treated. "The Government is examining the possibility of increasing this rate to 3 per cent for the year 2020 under the 2020 budget bill if the eco-organization meets the treatment targets set for it this year" .