An open electric catamaran
The first model - the Bagou 7.0 - is an open electrically powered catamaran with an overall length of 7.30 m intended for coastal cruising. Approved in category C, it can accommodate up to 10 people on board, who will have all the amenities for a relaxing day at sea: spacious saloon, sunbathing, kitchen, etc.
Jérôme Clément - who had already designed and built two multihulls in the past as an amateur - was able to put his experience to good use in the design of this new model, now built in series. " The choice of the catamaran is justified by the need for a minimum amount of drag in the water to obtain a high-performance electric boat", explains Xavier Petitcolin, head of communication and sales for the brand.
He has joined forces with naval architect Julien Marin, who specializes in the construction of plywood/epoxy boats to create a sober and refined design with inverted bows.
This construction method has the advantage of avoiding the very expensive manufacture of moulds, and is particularly suitable for small series. The boat has been under construction since April 2019 in the workshops of Sailwood, a carpentry company and shipyard in Lorient, and will be launched in early July.
After the presentation of a model in December 2018 in Paris, the official launch will take place at the Grand Pavois in La Rochelle in September 2019.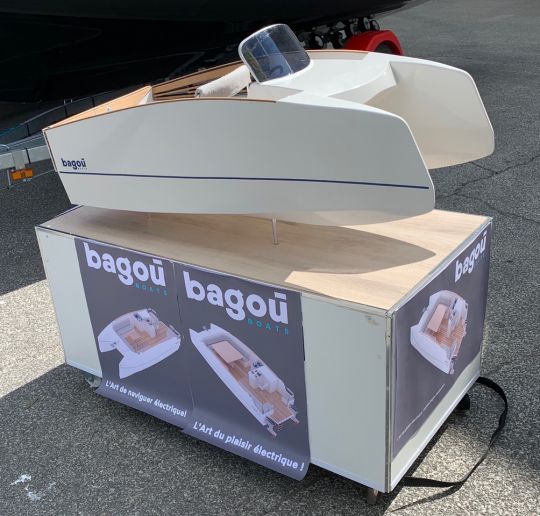 An electric propulsion system
Unlike the motor boat market, which offers increasingly large engines, the Bagou 7.0 receives electric propulsion from 2x2 kW to 2x10 kW (or even 2x50 kW).
"Some brands design boats designed to accommodate internal combustion engines and offer electric motors to give them a "green" image. With Bagou Boats it's the other way around. The boat was first developed for electric propulsion, but was nevertheless designed for thermal propulsion to provide a complete offer" explains Xavier Petitcolin.
A range at venir??
The development of a range has been thought out, but the deadline remains unknown for the moment. "In 2019, we will release a single model," explains Xavier Petitcolin. "But the advantage of building this platform is that it allows us to adapt it to different architectures." he adds.
Thus, it is not impossible to see new versions arrive: closed cabin, diving club version, etc.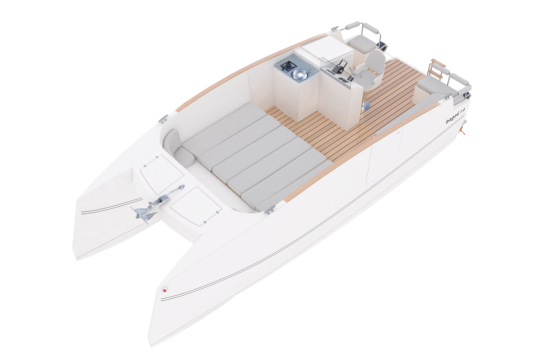 A use for pleasure boating
With this model of open catamaran, Bagou Boats is designed for different profiles: coastal sailing, river sailing, but also sailing in inland waters, and especially on lakes. It also applies to condominiums and boat clubs, as explained by Xavier Petitcolin, in charge of development. Marketing and sales of the brand.
"The population of boat-owning boaters is aging, and with Bagou Boats we are considering the solution of sharing and using boats, in rental fleets or in co-ownership."
Or for professional use
The site also hopes to attract professionals by offering an entertainment platform on the water. "We also target professionals in river tourism and gastronomy. For example, one could imagine a restaurateur based on the Blavet (Brittany) organizing dinners on the water. The Bagou 7.0 could also be used as a hotel shuttle, or be used for cooking on the water" explains Xavier. The hull is optimized to sail between 5 and 15 knots.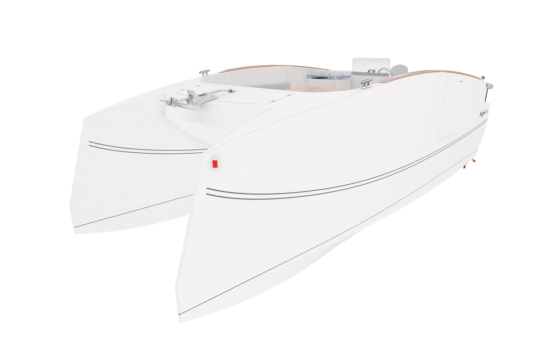 A participatory fundraising campaign
To develop its means of communication and notoriety, Bagou Boats will soon organize a participative fundraising campaign. "It will be a donation-for-donation procedure that will allow us to raise funds to promote the brand," concludes Xavier Petitcolin.