Industrialization of production
The French start-up, founded in 2011, has developed the only "road boat" approved to operate on French roads thanks to a decree in the State Council and a ministerial decree. No more need for a port or trailer space since you can now reach the sea directly from your garden, without leaving your pilot seat.
Thanks to a capital raising of ?400k from its historical investor, and ?300k from two banking partners (BPGO and CMB), TringaBoat can now industrialize the production of its prototype.
"We have started production of the first series of two boats. Thereafter, series of four units can be processed. For marketing, it is carried out directly. It was already in place, but in the form of a reservation. These are now transformed into firm orders with delivery times. Of the first two units, one will be used as a second demonstration boat for the Mediterranean and another will be delivered to a customer. These six models will be delivered before the end of the year" explains Gilles Sécheresse, sales manager of TringaBoat.
The basic price of the Tringa with a 150 HP Honda engine is 103 960 ? including VAT.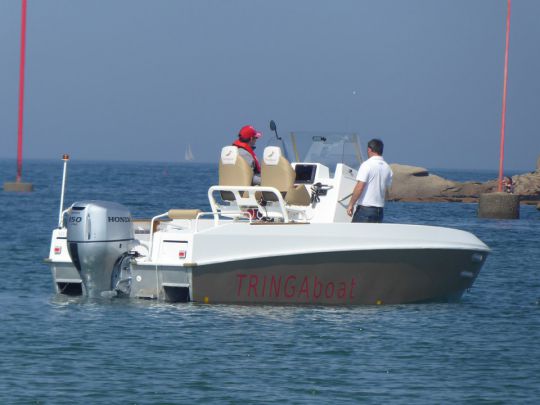 A 100% French construction
It is within the site installed in Lannion (22) - which subcontracts the composite construction to a regional specialist - that the hull-deck assembly, that of the mechanical, hydraulic and electrical components as well as the assembly of the deck accessories will be carried out.
If today, production is one boat per month, the yard announces that it will be able to increase the maximum production capacity to 44 units per year. "" adds Gilles Sécheresse. "540"Our subcontractors are 100% French, or even mainly Breton. The Tringa is therefore a boat 100% designed, conceived and built in France"405"https://media.boatindustry.fr/boatindustry/30898/production-industrielle-tringa-boat-commercialisation-2.jpg"This is the capacity we would like to achieve in 2020">