The Carboman group took over SMM Technologies with Lorima in September 2017. What was the perspective of the operation and what has changed since then?
This is a vertical integration for Carboman in order to have an in-house mould production capacity, including the machining centre. On the other hand, the objective is for SMM Technologies to be autonomous. Today, 1/4 of the turnover is internal to the group, but there is a call for competition and the turnover is at market price. We also won back new customers, such as Zodiac or Couach.
From the point of view of staff, there were 21 of us when the tribunal was taken over in September 2017 and there are now some thirty of us.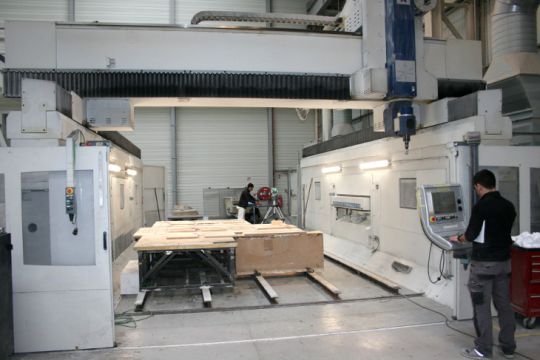 Machining centre of SMM Technologies
How do you position yourself in relation to the competition?
Today we have a competitor in France, but the competition is mainly in Spain, Italy and Turkey with low prices. Overall, there is a capacity issue on the market. Some customers come to us as a second chance after a failure in Turkey.
How are the activities distributed by sector and country?
Over the 16 months since the recovery, boating represents 50% of the activity. Industry, aeronautics and naval complete the volume. Our customers are 90% French. Transport is an important element. We looked at the expedition by barge, being at the water's edge. This still costs 3 to 4 times the price of the truck.
What are the areas of development and future investments?
The most important thing is to regain the trust of customers and to ensure their long-term survival when taking over a company at the helm of the court. It started, with new customers like Zodiac or Couach.
From the organizational point of view, the work, already initiated, is to set up a functioning with good communication, and that I can pass the hand over to SMM in the long term.
We will invest in a dust extraction plant. However, we limit ourselves to contact stratification or infusion at SMM Technologies. If it is necessary to make prepreg or use an autoclave, we will look within Carboman.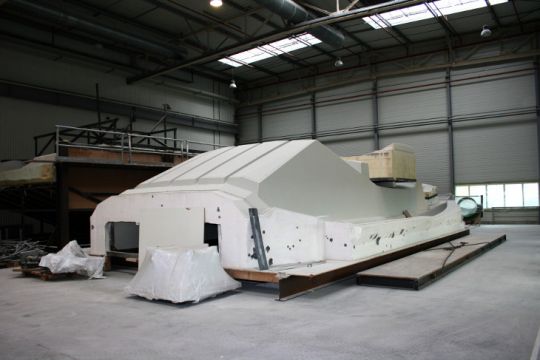 Mould of the A2V surface effect catamaran made by SMM Technologies
In conclusion, I would like to say that You come from the aeronautics industry. How do you view boating?
I worked before at Airbus for many years. I was looking for agility. For the past 4 years at Carboman, I have found it very interesting to "structure the craft industry". There is an educational work in nautical production to avoid industrial errors. There are many skills and regulations leave more room for innovation than in sectors such as aeronautics or construction. On the other hand, there are many "great chefs de cuisine" with their knack for challenging themselves and coming up with their technical solution.
The variety of projects and their rapid pace bring novelty without leaving time to get bored.