One might think (wrongly) that wood is only used for the restoration of old boats. But this is not the case, wood is a modern material. Certainly wood is very present in the restorations of the Riva hulls and some other beautiful wooden creations (sailboats or motor boats) and these yards testify to the good health of the vintage spirit. But wood is also very present in the development of some recent projects.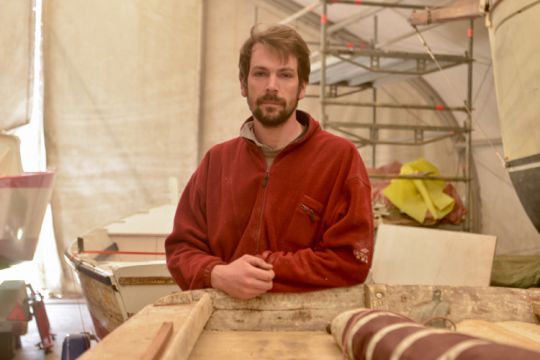 Nicolas Arnoult is currently working on modern projects, with tight lines and incisive hulls. As proof, the Kanta, this 12-foot trimaran, designed and drawn by two young architects (Francois Pérus and Romain Scolari) and recently launched in its workshop. The hulls are made of plywood, with glued laminated laminated arms (ash and mahogany). Or that other ship, the Blue Pearl inspired by Venetian taxis which has 4 beds and an electric motor for a length of 7 m. If the first copy is already sailing, Arnaud will take care of producing the hulls for the next orders...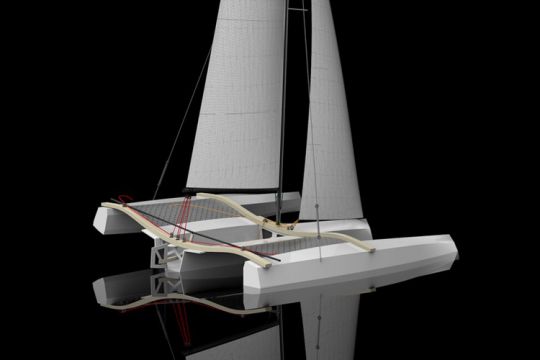 A true priesthood, and a generous passion
After his marine carpentry studies in Finland (his mother is Finnish, and he lived there for 7 years), this certainly talented young man, at 31 years of age, has a promising track record in the construction or restoration of very varied ships that in turn enter his yard in order to receive a facelift, or a more profound restoration.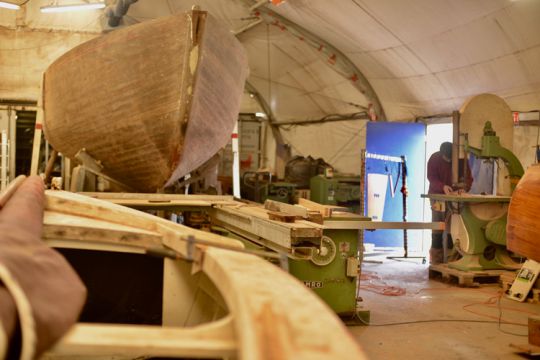 Thus during our visit we could contemplate an old 33-foot solid wooden hull built on the Island of White by the Woodnuts & Co. yard. Next door was a Riva Tomassi showing his entrails while waiting for the renovation of his bridge. On the other hand, the 12.10 m sailboat Taïra built in Le Havre by Grivel in 1930 is also waiting for the art worker..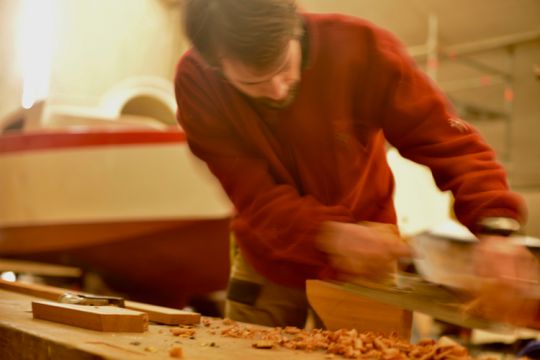 The art of planing is no longer enough to declare yourself a marine carpenter. It is now also necessary to make the hull drawings, to know the techniques of drawing and gabarillage. So many strings to his bow that Nicolas handles with precision.
Nicolas Arnould deposited his toolbox in the Kerran area of St Philibert (56,470), in a 200 m2 canvas shed and in the immediate vicinity of other services (mechanics, wintering, painting, lamination...). For the launching, the site is located 5 km from La Trinité sur mer and its handling equipment. It does not have its own crane facilities, but uses the services of a neighbouring company.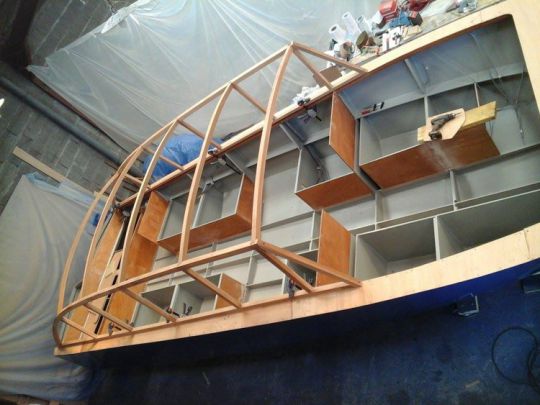 Renovation or new
One of the advantages of wood lies in the absence of a mould for construction, so there are no constraints linked to this investment (number of boats to produce, size...). Thanks to a wooden framework, all templates, all shapes can be adjusted to the owner's or carpenter's wishes, to produce a unique copy. It is this freedom of action, switched with rather competitive rates that makes the interest of wood framing. Without leaving aside its aesthetic and warm aspect. Add to that the fact that wood is an excellent thermal and sound insulator, and you will have in hand some of the ingredients that make this traditional way of doing things still popular.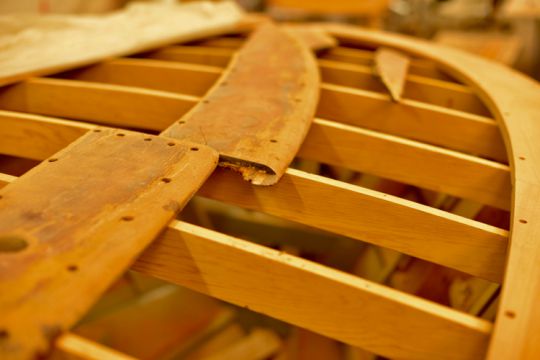 Choosing between teak or iroko for the bottoms, then between oak, pine, spruce or Oregon coniferous wood for the frames and planks, it is necessary to know how to adapt the varieties of wood to the use that will be made of them. This is a real knowledge that few construction sites can still boast of transmitting.
Moreover, even if the marine structure is not a speciality of Morbihan, there are still 6 of them in the department (St Philibert, Bades, La Trinité sur Mer...). But there are also some in the Mediterranean, especially in Canet en Roussillon.