Recently integrated into the Zodiac group, following the acquisition of his company Anonym SUP, Matthieu Guyonnaud is now at the head of the Zodiac Sport business unit, which covers both paddle boats and inflatable boats under 5 metres in length. He answers BoatIndustry's questions about this new entity and its strategy.
You recently joined the Zodiac group. Can you tell us about your previous professional background?
Before I came here, I had at least 60 marks on my hands in the surfing field. I have gone through all levels from technical to technical. I also have experience in textiles at Kanabeach. After that, I set off on an adventure with a view to making a good living, but I wanted to come back to a subject I liked. That's when I created Anonym SUP with 4 friends. We chose the name because we had all been men of the shadows for many surf brands. Personally, I fell into the paddle in 2007, in parallel with longboarding or bodysurfing, because it was a more family and "non-selfish" activity.
Where are we at with the integration of Anonym SUP into the Zodiac group?
It's been six months. We now have 100% integration, from sourcing to software and legal. The website should be updated on 15 March.
What is Zodiac's strategy in creating the Zodiac Sport business unit, which includes the SUP and small folding boats? What are the future developments?
It is a global vision, in an area where we have always wanted to eliminate seasonality. Our goal is to do things that swell up, to go on the water and have fun or play sports. Why not SUP Zodiacs, fitness products, dock-stations or yoga accessories, but also white water. Zodiac was one of the first in history to make inflatable rafts before stopping for strategic reasons of investment funds. We must not forget the past. Zodiac was the patent holder of the drop-stitch (NDLR: the weaving technology that integrates retaining yarns into the inflated volume to obtain complex shapes) originally.
There are also drop stitch contributions to be found in safety equipment, taking advantage of the know-how of our factory in Toulouse.
What are the areas of work for small inflatable boats?
We work on things in the age of time, with new colours, accessories. Kind of like what was done for the biggest boats. We want to modernize things that have not moved for a very long time! There are marketing codes to dust off.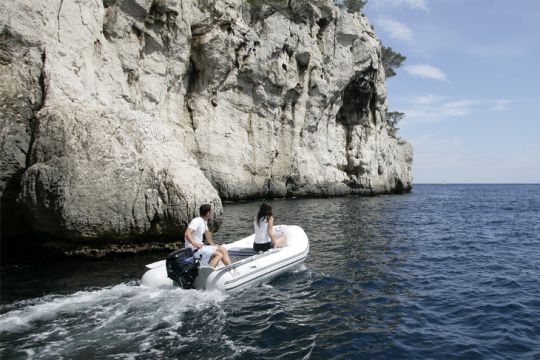 What are the synergies between the activities?
There is a commercial complementarity, with a different way of working. For Zodiac Sport, I work through independent commercial agents who have their networks with rental companies or municipal centres on the lakes, for example. Their strength is that they can offer both the safety boat and the paddles at the same time. I also always believed that there was a bridge between boating and the world of sliding and sports action. The SUP is the new annex!
On the technical and industrial side, we cross-reference sourcing. I also bring know-how on details like storage bags.