Capstan Harken CLR wins the DAME Award
Harken won the 2018 DAME Award in the Deck Equipment, Sails, Rigging category with its Harken CLR capstan. Designed for docking manoeuvres on large boats, this new deck equipment uses Harken's winch expertise. It is distinguished by its lightness and compactness. Telescopic, the capstan Harken CLR leaves a clean deck layout and work area by erasing itself under the deck when not in use.
Lightweight, powerful and compact deck equipment
Rather than a traditional drum, Harken has chosen to equip the CLR capstan with 5 independent aluminium rollers that rotate together around the main axis of the device. This technical solution allows a weight saving of 33% compared to competing products, says the manufacturer. For greater comfort of use, this arrangement also provides interior lighting for the winch for night-time port operations.
The positioning of the engine makes the Harken CLR capstan extremely compact. The accastilleur claims a 40% increase in occupied volume at the horizontal level and 50% at the vertical level. This makes it easier for boat builders and naval architects to integrate the model into their designs.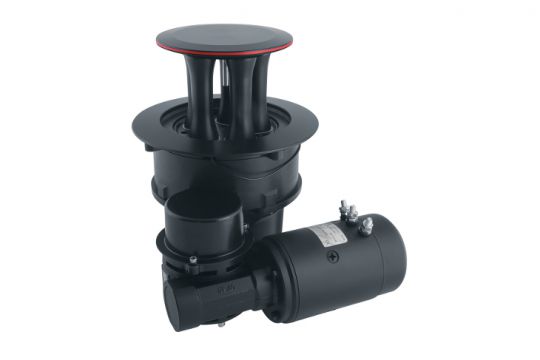 Two traction powers are available. A first model towing up to 600 kg is available for boats from 13.7 m to 18.2 m. A second, more powerful one offers up to 1200 kg of traction for units up to 27.4 m in length.
Finishes and options
The Harken CLR capstan is available with hydraulic or electric motors in 12V or 24V. The top plate is available in aluminium, chrome or wood finish to suit all deck plans.