Construction launched for the 1st Ikone 6.50
Announced at the beginning of 2018, Ikone's new yacht is taking shape in the company's premises in Concarneau. The hull of the first Ikone 6.50 was being draped during our visit in mid-October, while the preform of the deck mould was receiving the final finishing touches. Developed with naval architects Frédéric Neumann and Christophe Barreau, this is a coastal cruising yacht in line with the shipyard's DNA, available in sloop or catboat.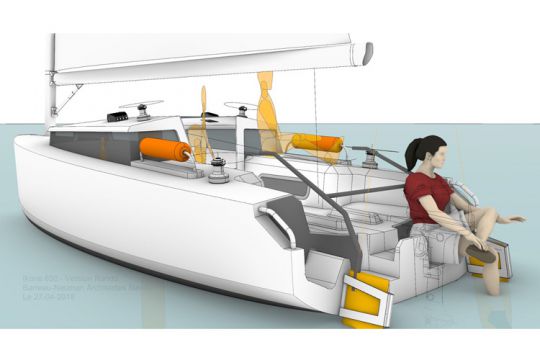 A technological milestone for the Ikone shipyard
Beyond the new model, the Ikone 6.50 is a turning point in more ways than one for the shipyard, as James Simon, who took over the company at the beginning of 2018, explains. "It is the first Ikone boat to be fully digitised, with hull and deck moulds, as well as the interior layout. We have gone a long way in the details by integrating the recesses for the hinges and the filler materials right from the preform. The furniture is laser cut by CTS Numérique. The Ikone 6.50 is also the first of our boats to be manufactured in infusion from the first unit."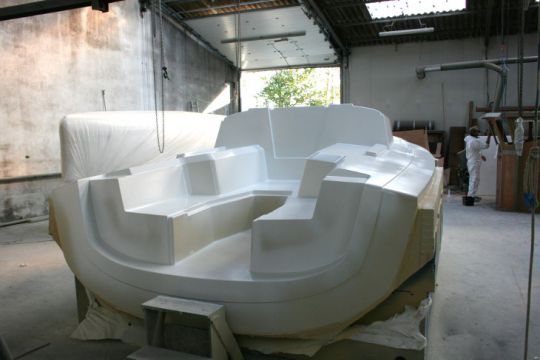 Industrial and commercial gains
With these developments, James Simon intends to move Ikone towards greater industrialisation and to respond more quickly to the demands of the yachting market. "Between the beginning of the project and the first boat, it took 18 months for the Ikone 7.50. With these new methods, it took nine months for the Ikone 6.50. We concentrate development over a short period of time and save time by parallelizing the studies. We can start on the hull while we finalize the furniture. All in all, this means a 30% cost reduction on the development of the boat. By saving time, we improve our time to market and we can follow the market as demand changes."
Towards an increase in sailboat production
The Ikone shipyard should deliver 14 yachts in 2018, compared to 8 last year. James Simon intends to keep up the momentum. "For the Ikone 6.50, the goal is to produce 10 per year." To achieve this, the shipyard will start extension work on the premises in 2019. New storage and office space will improve the use of the boat shop.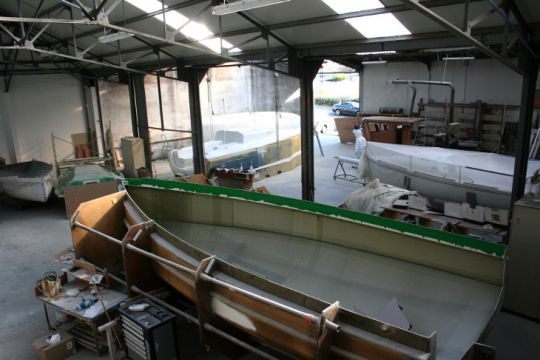 Renewing the range and aiming at export yachting
After the launch of the Ikone 6.50, James Simon has two projects on his desk. A reflection is underway on the renewal of the range and the positioning of Ikone. If he wants to improve the quality of the finishes, the size of the boats remains to be defined. Commercially, the concarnois shipyard wants to develop exports, for the moment mainly from Switzerland. "In 3/4 years, the goal is to make 90% of the turnover abroad," says James Simon. The success of the Ikone 6.50 will surely be a decisive factor in the future strategy.