New buildings for new sailboats
As announced in 2017, Neel Trimarans' growth resulted in the opening of a new nave in 2018, adjacent to the initial work site on the La Rochelle nautical platform. The new building allows the multihull builder to organize its production to meet growing demand and the success of the future 47-foot boat. "About twenty boats have already been sold before the launch," says Barbara Bruneel, in charge of the yard's communication.
The hull of the Neel 47, whose prototype will be launched at the end of January 2019, was being manufactured during our visit to this new hangar, which doubles the area of the yard. The old nave will remain dedicated to the Neel 45 and Neel 51, while the 65-foot production will continue in the premises of the recently acquired TechniYachts Pinta shipyard. While the production rate of the previous models is 6 weeks, the production rate of the Neel 47 should reach 3 weeks.
An office building is also being delivered to accommodate all support functions.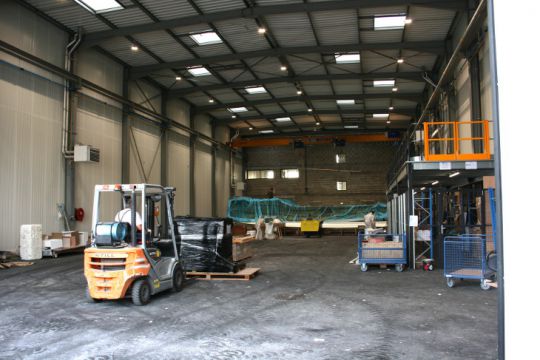 Renting as a sales lever to individuals
The company has already recruited two new sales representatives to expand its sales force. One of these recruits will be responsible for working in particular on the charter market, an effective tool for developing the retail market. "The Neel 45, quite adapted to the charter market, will continue, despite the arrival of the Neel 47. We have noted a positive effect of the boats for rent, as it allows prospects to try the trimaran in the Mediterranean and the West Indies before buying," explains Barbara Bruneel.
The recruitment challenge
Since the acquisition of TechniYachts Pinta Neel Trimarans has 70 employees. With a project of 20 hires, mainly in production, the company is facing the usual difficulties of the sector. "This represents a lot of energy, but we see a positive evolution from the point of view of training. We have constructive meetings with the New Aquitaine region and the cluster, as well as with the Communauté d'Agglomération de La Rochelle."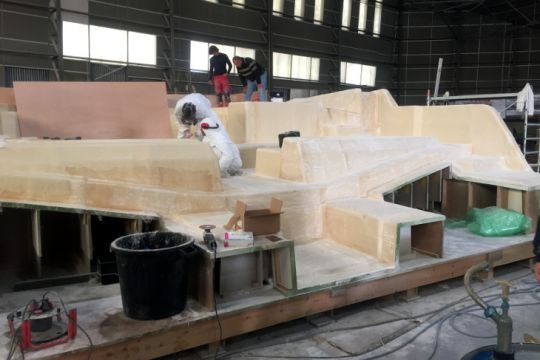 Neel 47 deck mould
Towards more integration of TechniYachts Pinta
After the acquisition of TechniYachts Pinta, its historical subcontractor, in June 2018, the integration process is underway in terms of organization and production. "We have set up an internal communication journal with cross portraits so that the staff can get to know each other better. Eventually, the teams will be flying between Neel and TechniYachts Pinta. In terms of activity, we are maintaining the Day One range of catamarans, but refit and wintering will be stopped. Thimotée Bruneel, Eric's son, founder of Neel Trimarans, has just set up his company Go Sailing and will be able to propose alternative solutions for our customers in this field", says Barbara Bruneel. The median around the premises also represents a beautiful land reserve for further growth, in a crowded rocky nautical plateau...