A long process
The acquisition by Bénéteau Group of the Slovenian sailing yacht brand Seascape in the summer of 2018 was the result of a long process. His initiation even surprised his founders, Kristian Hajnsek and Andraz Mihelin. "At first, we didn't believe it! "exclaims the first. "It started at the Düsseldorf 2017 trade fair. We were approached by someone who asked us a lot of questions. As he seemed to know the site well, I thought he was a journalist. When I asked him what magazine he worked for, he told me he was from Bénéteau. When I asked him to clarify his position, he admitted to me that he was leading the group. Actually, it was Hervé Gastinel who was asking! I didn't know his face. There were then long exchanges to arrive at the repurchase this summer. It was a good time to find ways to develop new boats. "
Seascape 24
Keeping the Seascape spirit within Bénéteau
While the Seascape yacht models have been renamed First to integrate Bénéteau's range of boats, the founders of the Slovenian brand are confident about its future. "It's a challenge. We bet, literally with our money, that we can bring our passion within the Bénéteau group. We think that a shipyard like ours, which has a turnover of a few hundred thousand euros, can find its place within a group that has a turnover of over a billion euros. "Seascape, based in Slovenia, continues today its activity within the French group.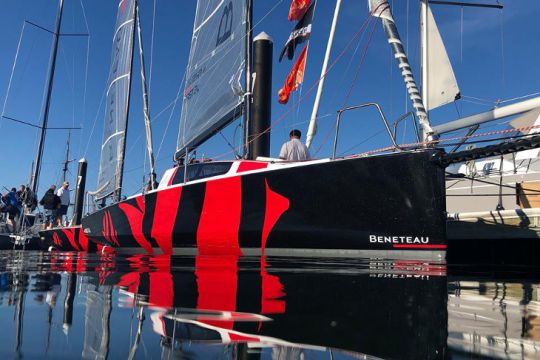 Seascape 24 redecorated in Bénéteau colours under the name First 24
Specialists in small yachts
While Hervé Gastinel, President of Bénéteau Group, has announced the launch of a complete range of yachts under the First brand, from 18 to over 60 feet, Kristian Hajnsek and Andraz Mihelin wish to concentrate on small models. "We stay on sailboats under 40 feet. To really sail, you don't need a bigger boat! "exclaims Andraz Mihelin with a laugh. When asked about the possibility for Seascape to design a Mini 6.50, a series they practiced, a project that could be coherent with the release of the Figaro Bénéteau 3, Kristian Hajnsek smiles:"Why not! But it would be a project for image and pleasure! "