Offensive by the Federation of Nautical Industries at the inauguration
The Cannes Yachting Festival is the subject, as we have mentioned several times on BoatIndustry, of legal proceedings concerning the ownership and management of the Mediterranean Boat Show. It pits Reed Expo against the Federation of the Nautical Industries (FIN). While we thought the tensions between the parties had subsided, pending a hoped-for judgment by the end of the year, the speech by Yves Lyon-Caen, President of the FIN, which was sent to the press contrary to usual practice, awakened the tension. "I will not talk about the subjects that are annoying, whose evocation could tarnish the pleasure of this inauguration: these subjects will be decided by the judges by the end of this year. "began the representative of the profession, who soon launched an offensive against Reed Expo's plans for the 2019 edition of the show. Denouncing a "choice of fait accompli", he criticized a "diktat" imposed on exhibitors of sailing and nautical equipment who will settle in Port Canto next year. He finally concluded with a budgetary promise: "For its part, the FIN Board of Directors decided this morning, if the courts decide in his favour, that it would allocate to this investment the additional financial margin generated by the expansion of the show
When asked by BoatIndustry about these statements, the General Delegate of the FIN, Fabien Métayer, sees no desire for controversy, but a great concern for the future of the show.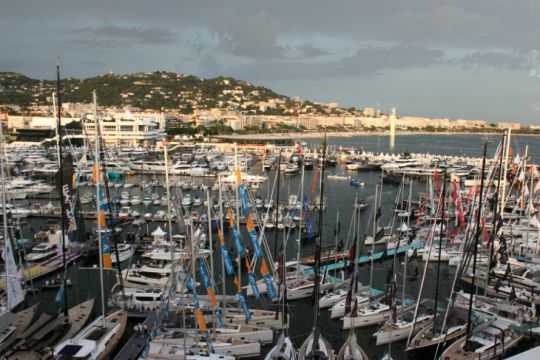 Reed Expo defends its project for the sailing show in Port Canto
Invited by BoatIndustry to react to Yves Lyon-Caen's comments, Michel Filzi, President of Reed Expo, defended his working method. "With the term fait accompli, the NIF pretends to ignore the work done. We started with a meeting in March 2018 with the 40 largest sailing and motor construction sites. Technical work was then carried out on several scenarios. Finally, one-on-one discussions in June 2018 with the 15 largest sailing shipyards made it possible to present the new project. Nevertheless, I note a double convergence on the absolute need to expand the Cannes Yachting Festival and on the passage of sailing in Port Canto. ". He also indicated that he had already identified the difficulties highlighted by the President of FIN, concerning transport, catering or stands. "We are investing an additional ?200,000 in Port Canto, taken from the margin, to ensure the successful development of the Cannes dual show. And if it wishes to participate, I invite the FIN to match these investments with a portion of the royalty we pay it."
Everyone counts their troops
Last episode of the opposition, Reed Expo and the Federation of the Nautical Industries invited exhibitors at the same time on Thursday 13 September, but in different locations, to a meeting on the future of the show. Everyone counted their troops. FIN has entrusted representatives of the various boating professions with the task of forwarding their grievances to Reed Expo. It is now very difficult for observers to separate legitimate concerns about a new organization from a continuing power struggle. Let us hope for the profession that the justice system will decide as soon as possible and designate a single legitimate organizer for the Cannes Yachting Festival 2019.