The Bénéteau group in the majority of Seascape sailboats
On the occasion of the announcement of its results, the Bénéteau Group formalized the takeover of the Slovenian shipyard Seascape d.o.o. The world leader in sailing tells BoatIndustry that it has taken a 60% share in the sports yacht builder. The two founders, Kristian Hajn?ek and Andra Mihelin, keep the remaining 40% and keep the reins of the company. They claim their independence and summarize the new situation as follows:"Seascape as a company remains as it is: same management, same team, same premises
Sailboats recognized in sports regattas
Seascape Shipyard was founded in Slovenia in 2009. Back from 2 Mini Transat campaigns in France, the founders Kristian Hajn?ek and Andra Mihelin want to offer the pleasure they had to sail on live, high-performance yachts to as many people as possible. They joined forces with the French architect Sam Manuard to launch a range that now includes 4 boats from 14 to 27 feet. Efficient, they quickly benefit from a good image on European water bodies.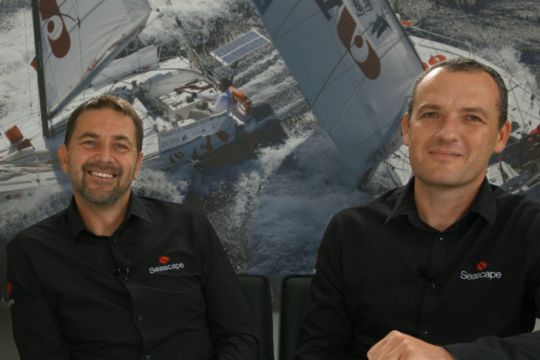 Kristian Hajn?ek and Andra Mihelin, founders of Seascape
Reclaiming an abandoned market
If the Vendée leader refuses to communicate his strategy before his annual press conference in September, we can see in the acquisition of Seascape a way to return to the field of small sports yachts, abandoned since the First Class 7.50 in 2003. The First Class 8, whose reputation continues, had made Bénéteau's finest hours. While the Figaro Bénéteau 3 allows the Vendée shipyard to keep one foot in the ocean racing, its name is no longer associated with small, uninhabitable racing boats. With Seascape, he sets foot again in a sector dominated by medium-sized projects such as J Composites or Melges, benefiting from a superior image in quality.
Seducing young people
Seascape's image will also reach a younger audience, lost by Bénéteau. Gliding, equipped with an asymmetrical spinnaker on bowsprit, Slovenian sailboats offer sensations sought after by new sailors. The Bénéteau Group is thus adding new models to its range, expanding its offer without any development time. While all boating professionals are concerned about the ageing of boat buyers and crews, the European leader in sailing wants to attract new customers.