Bénéteau Group revises its objectives downwards
On the occasion of the publication of its results for the third quarter 2017-2018, Bénéteau Group revised its growth objectives. The European leader in yachting, which at the end of the first half expected annual revenue growth of 8% to 10% at constant exchange rates, now estimates growth of between 7% and 8% for the current financial year. Revenues for the first 9 months totalled ?885.8m, including ?722.9m for the Boat division. The growth over the period is 6.2%, but hides a strong slowdown in the 3rd quarter, where the increase is limited to 1.7% compared to the previous year.
A complex international and industrial context
The Bénéteau Group justifies the evolution of its results by 3 main elements:
Orders for motor yachts down ?20m from target by more than 70 feet
The trade war launched by the United States and customs tariffs in Canada and Europe, which should penalise the year by between ?4 and ?5 million
The closure of professional CNB Pro vessels, whose profitability did not correspond to the group's expectations
The integration of 500 new employees on permanent contracts also delayed deliveries from the 3rd to the 4th quarter.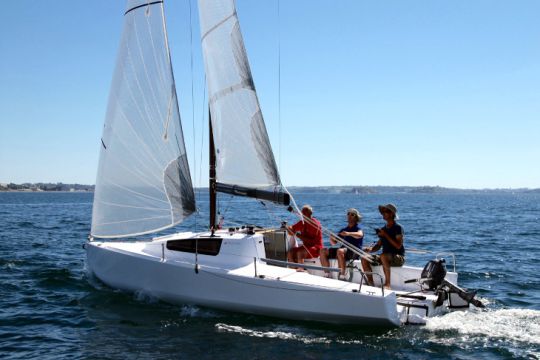 Seascape 24
Buyout of the Seascape sailboats
The announcement of the results was also the occasion to formalise the takeover of the Slovenian shipyard Seascape d.o.o. When asked by BoatIndustry, the Bénéteau group stated that it had taken a 60% share in the sports yacht builder. The two founders, Kristian Hajn?ek and Andra Mihelin, keep the remaining 40% and keep the reins of the company.
Bénéteau falls on the stock market
Investment, new models and growth, which remains above the market according to the Bénéteau Group, are not enough to reassure investors. The share price fell sharply on the announcement of the 3rd quarter results. The title lost 20% of its value on July 11 and more than a third of its value since January 1, 2018.