Extraordinary dimensions for the western Mediterranean
The Canet en Roussillon site of Sailing Atlantic Services (SAS) is expanding. In the summer of 2018, the company will acquire a new, very large boathouse. With a surface area of 800 m², the building has been specially designed to accommodate catamarans and monohulls up to 90 feet. An access door 22 metres wide and 12 metres high allows the entrance of a travelift into the premises. A travelling crane handles the material and equipment. Boats up to 6 metres high can reach the site thanks to a road specially designed by the Perpignan conurbation but can also be brought by the sea and get out of the water thanks to the 50T and 200T travelifts of the port of Canet.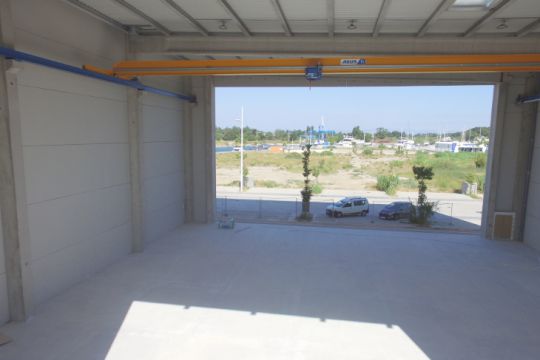 Develop new activities
This impressively large building opens up new horizons for SAS. It will be suitable for all types of work requiring protection from the elements. The hangar is equipped with adequate air extraction equipment for painting and working with composite materials. Covering and paints, installation of teak decks, can be carried out under the best conditions, sheltered from bad weather and in a controlled humidity and temperature. Partnerships with Robin Marine for electronics, AGL/AwlGrip for painting, as well as teams of qualified laminators and marine electricians will enable SAS to position itself on the refitting market, the ideal complement to boat preparation, the company's historical activity.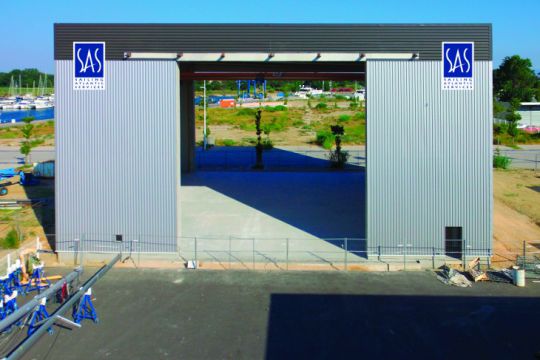 A major player in boat preparation
Sailing Atlantic Services (SAS) has been preparing new recreational boats for 20 years. Founded in Les Sables d'Olonne in 1997, the company has also been present in Canet-en-Roussillon since 2008. She works on behalf of the major yacht builders and their dealers in France and abroad, such as the Bénéteau Group, as well as for rental companies such as Dream Yacht Charter. SAS teams take delivery of the units from the factory, organise road transport and install additional equipment by checking the proper functioning of the entire boat for delivery to turnkey customers. The two sites in Vendée and the Mediterranean together handle 300 new boats per year.