Diversify the shots
The sea photo competition reserved for professional photographers is adapting its rules to meet the evolution of the profession as well as the different evolutions. Photos taken from a helicopter, a drone or a selfie boom are therefore allowed. On the other hand, photos extracted from a video will not be accepted.
Photos can be digitally superimposed, as was the case with the winning photo in 2017 - which is the result of a series of 15 images taken by a UAV flying 100 m above the regatta, then compiled without any of them being retouched using a specific algorithm.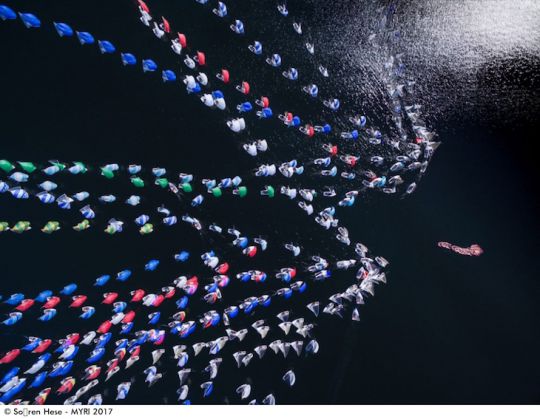 Highlighting the regattas
The photos submitted must have been taken during a regatta and highlight the regatta, regardless of the subject: sailing boat, dinghy, dinghy, dinghy, windsurfing, kitesurfing or multihull. The photo may have been taken during training, during the race or after and only during a period between October 13, 2017 and September 12, 2018.
Photographers will send in their photos before midnight on 12 September 2018, but only 80 photos will be selected by a panel of 3 international photographers and presented on the competition website on 18 September for public voting until 10 October.
The international jury, made up of Cory Silken, professional sailing photographer, Jesus Renedo, co-founder of Sailing Energy Photography, Sofia Bekatorou, Olympic Champion in the 470 class in 2004, Nicolas Mirabaud, sponsor and CEO of Mirabaud & Cie SA, Jean-Baptiste Epron, nautical designer, and Brice Lechevalier, founder and editor-in-chief of Skippers magazine, will select the 20 selected photos on 1 January 2010 e october 2018.
These will be on display at the Yacht Racing Forum in Lorient, France, on October 22nd and 23rd, in the presence of key figures from the sailing world. The winner will receive a prize money and two other secondary prizes will be awarded: the Yacht Racing Forum Award (selected by delegates attending the conference) and the Public Award (based on public votes).
A contest of interest
In 2017, 137 photographers from 27 countries took part in the edition won by the German photographer Sören Hese with a picture taken during the 505 International Championship in Berlin, Germany, in May 2017 . The jury particularly appreciated the originality and the complex technique used in the creation of this photo taken by drone and compiling a series of 15 shots.
More than 20,000 people voted for their favourite image on the Internet, while 2.2 million pages were viewed on the event's website.