First one-design sails for All Purpose
The All Purpose sailmaker has just delivered 25 gennakers to ADH Inotec, the manufacturer of the Diam 24, the trimaran for the Tour de France sailing race. This delivery is the first stage of an important market for the Breton company. This is his first one-design sail contract. The call for tenders concerns 80 gennakers in 2018 and as many in 2019 for the yard, which ensures the sale to the owners, to which are added those delivered to ASO, the organiser of the Tour de France à la voile.
A technological showcase
"Our initial goal in responding to this call for tenders was to show our know-how," explains Fred Moreau, All Purpose sales manager and Diam 24 runner,"Before, gennakers were in classic panel construction. We took the risk, not required by the specifications, to respond with our Trilam nylon membrane to show its performance. We also demonstrate that we can respect the constraints of the monotype, with tolerances of only a few centimeters."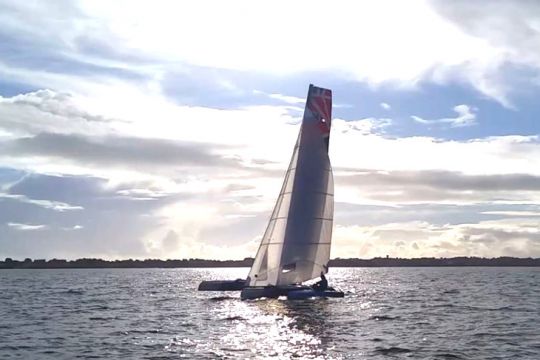 An investment for the future
Through the gennaker market, All Purpose intends to strengthen its position in the racing boat sector, thanks to a popular class among skippers. Regatta and ocean racing represent 70% of the sailmaking activity. "Every year, nearly 150 people sail in Diam 24 over the season and test our gennakers. There are various profiles, more or less old, coming from different supports. It's a way to reach young people just starting out. It's an investment to develop us and gain market share in offshore racing," says the sales manager.
Towards other calls for tender?
If All Purpose was already making original equipment sails for the Pogo 3 and Pogo 36, this is the first call for tenders for the sailmaker. "This required a little reorganization on the floors of Carnac and La Trinité sur Mer. For the coming years, we will be able to store and produce in the winter low months. We saw that it was possible. So why not respond to other calls for tenders in the future" concludes Fred Moreau.