A good 2017 season
The Compagnie des Ports du Morbihan, a local public company created by the department, is now in charge of 15 marinas. Its turnover increased by 6.6% in 2017. As at 31 October 2017, it managed 10,210 berths, including 8,312 for boats afloat and 1,898 ashore. Its 260 employees, including 119 seasonal workers, welcomed pleasure boaters, residents or during 64,058 overnight stays. We must add 13,389 nights linked to nautical events which boost the activity of the network's marinas. In 2017, La Trinité sur Mer was the first port of reception for nautical events on the Atlantic coast, thanks to events such as the Spi Ouest France Destination Morbihan or the Armen Race.
A ?60 million investment plan
After investing 11 M € in 2017, the manager of Breton marinas is preparing to inject 60 M? during the period 2018-2021, on all of its sites for the ports on land, port infrastructures, the fitting out of premises, the facilitation of access, the development of digital operating and communication tools.
Progress of the Port-Haliguen project
"Port Haliguen represents a budget of 22 M € for maritime works and 8 M € for landscaping and shore buildings. The maritime part will be completed at the beginning of 2019 and the land spaces will be delivered in 2021" says Dominique Hérisset, in charge of corporate communications and director of Port-Haliguen.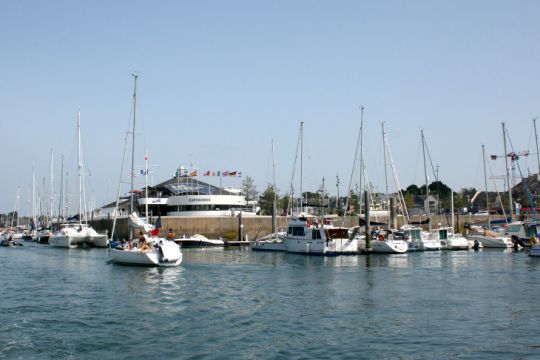 Port du Crouesty
Major works on land at La Trinité sur Mer and Le Crouesty
Budgets of 12 M € and 14M € will be devoted to Trinité sur Mer and Crouesty. "This mainly involves works on land, with the takeover of the Ifremer site in La Trinité sur Mer and the creation of a multifunction room in the port of Crouesty," explains Dominique Hérisset. Landscaping and parking lots should also be created.
Projects on land are also in reflection on the port of Etel. A sandblasting and fairing area is under study for Arzal Camoël.
Pontoons and dikes in Saint-Goustan and Hoëdic
New pontoons will be delivered in 2018 to the port of Auray Saint-Goustan. They will replace anchorages, which are less in line with boaters' expectations.
"We will also extend the Navy dike at Hoedic. This will protect the harbour from northerly winds and limit silting of the basin," added Mr. Hérisset.
Dredging works are also planned in Vannes and Locmiquélic.